Meet Tom Halloran: A Man for Others and Financial Manager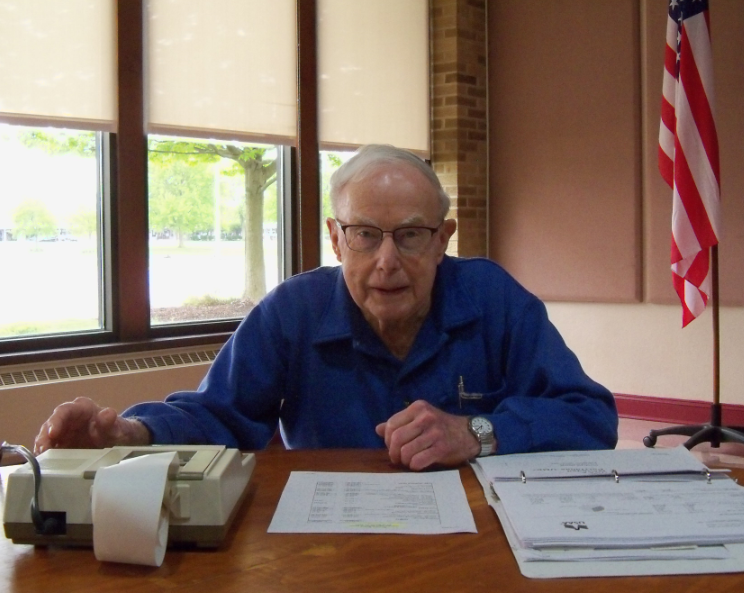 From serving his country to serving the Lord, Tom Halloran has led an amazing life. After serving for many years in not one but two branches of the military, Tom has dedicated thousands of hours to managing the Finance Council of St. John Bosco Church. You might not realize it, but many of the buildings that now comprise the campus of St. John Bosco Church were built under Tom's financial leadership.
Early Life
Born and raised in the Gordon Square neighborhood of Cleveland, Tom first attended St. Colman's Church. While attending St. Ignatius High School he enlisted in the Navy Reserves. Tom was discharged from the Reserves to enroll in the Advanced Army ROTC Program at John Carroll University.
In 1961, Tom married his wife Carol and joined Assumption of Mary Church in Brook Park. While working as a civilian for the Navy, Tom engaged in the design, development, and implementation of computer systems. He participated in the team that installed the first computer for the Navy Finance Center in Cleveland in 1960. After two years of active duty and 12 years in the Army Reserves, his position at the Finance Center was deemed more critical than his Army Reserve Mobilization position. Tom attained the rank of Major.
Ministry at SJB
In 1969, Tom, Carol and their five children moved to Beverly Drive in Parma Heights and joined St. John Bosco Parish. When SJB's first pastor, Fr. Edward Tulley, a retired Navy chaplain, learned that Tom worked for the Navy Finance Center, the two became fast friends. The rest, as they say, is history.
"Fr. Tulley was a legend," notes Tom. "He found out that I had a knack for fundraising and appointed me to the Finance Council." Tom has worked as a member of SJB's Finance Council for 45 years and has served as its chairman for 25 years. He participated in the financial planning for the construction of the Bell Tower and the school gym. He oversaw fund raising for the Eucharistic Adoration Chapel, the computer addition, and remodeling the church. More recently, Tom and the Finance Council negotiated contracts and managed the finances for church roof replacement and air conditioning repairs. He assisted Fr. Liberatore and Fr. Jurcak in negotiating two Positive Education Program lease agreements to rent the school building until June 2030.
Over the years, Tom coordinated fundraising events such as Christmas tree sales and the Dutch Split 50-50 Club. When his five children were attending St. John Bosco School, he participated in the Athletic Association, serving as its chair for five years.
Under Tom's leadership, SJB instituted the Automatic Clearing House (ACH) direct debit for church collections. He currently supervises a team of 20 parishioners who count the funds gathered from envelope collections. For 30 years, Tom managed the ushers for each weekend Mass. He also served six years as a trustee of Catholic Charities Corporation. In SJB's Holy Name Society, Tom served as Secretary, President, and chairman for a number of social events.
Together with Joe Kavalec and Ray Andrasak, Tom co-chairs the 2021 SJB International Festival Committee. They are working diligently to ensure the safety of all festival attendees and workers this year.
Given his many contributions, Tom humbly says "I'm not a hero, I'm just a worker. Volunteer work is the only way to keep the church running." He truly represents an example of St. Ignatius' goal of "Being a man for others".