Meet Jerry Bacher:  Teaching Others to Honor the Most Holy Names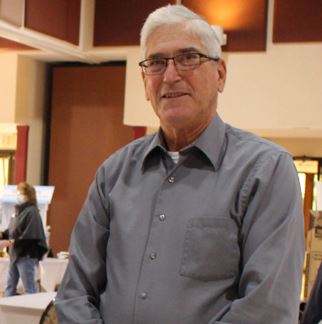 "At the name of Jesus every knee shall bow…"
Jerry Bacher has served as a shining example for our Parish to follow St. Paul's message to the Philippians. As a lifelong teacher and President of Saint John Bosco's Holy Name Society for the past 15 years, he has shown our parishioners the ultimate importance of reverence for the sacred names of Jesus and God in our everyday communications.
Early Years
Born in Elyria, Jerry was raised in St. Jude Parish where he graduated from the Church's Elementary School. As an eighth grader, the sisters recruited him to instruct younger students to become altar servers. "I enjoyed it so much that even then I knew that I wanted to become a teacher," says Jerry. Later he graduated high school from Holy Cross Seminary on the campus of the University of Notre Dame. Jerry studied Mathematics at Lorain County Community College and Bowling Green State University where he met his future wife, Jan. Following graduation from BGSU, Jerry taught math at various schools including Albion Junior High in Strongsville. While at Strongsville he obtained a Master's Degree in Mathematics from Cleveland State University. He then spent 25 years instructing math at North Royalton High School, from which he retired in 2005.
Jerry and Jan married in 1970 and joined our parish in 1971. They are the proud parents of three grown sons, all of whom attended St. John Bosco Grade School. Over the years Jerry has served as a lector and Eucharistic Minister and is also an active member of SJB's St. Vincent dePaul Society.
Mission and History of the Holy Name Society
The mission of the Holy Name Society is to promote reverence of the Most Holy Names of God and Jesus Christ, obedience to the Catholic Church, and evangelization by performing Corporal and Spiritual Works of Mercy. The Society has its roots in the Second Council of Lyons in 1274 when Pope Gregory X asked Blessed John Vercelli and his fellow Dominicans to spread devotion to the name of Jesus. At Saint John Bosco, the Holy Name Society began in the 1960s under Founding Pastor Fr. Edward Tulley.
Leadership of the Holy Name Society
Always a sports enthusiast, Jerry laughs when he recalls, "I originally joined Holy Name in 1989 to play softball. At that time they had a league with eight teams." Eventually it became clear that Jerry's teaching skills destined him for leadership not only in the Parish Holy Name Society, but also within the Diocese of Cleveland. Since joining the Society he has held various positions at the Parish level, including Treasurer and Vice President, and in 2007 he was elected President. In addition, Jerry leads the Cleveland Southwest Deanery of the Holy Name Society. For the entire Cleveland Diocesan Union of the Holy Name Society, Jerry had two tenures as President from 2015 to 2017 and 2019 to 2021.
St. John Bosco Holy Name Society
Presently, 80 men and women belong to SJB's Holy Name Society, which meets on the second Thursday of each month. Meetings begin with Mass at 7:00 PM followed by the Rosary. Special speakers are often featured at the meetings, such as Parma Heights Mayor Marie Gallo and Deacon Joe Litke, spiritual director of the Southwest Deanery. At 8:30AM Mass on the second Sunday of each month, the members celebrate a Corporate Communion. As a Lenten activity, the Society participates in the Diocesan Union's day-long retreat at St. Brendan's Parish which is held in March of each year. Both the Southwest Deanery and the Diocesan Union hold memorial Masses every November to honor recently departed Holy Name Members. SJB's Holy Name Society also promotes respect for parents through the sales of Mother's Day and Father's Day cards. Those who purchase cards may enroll parents in the Remembrance Masses held at the Church each month. Proceeds from the card sales are donated to the Parish Vacation Bible School and are also used to sponsor SJB's "Run With Me" Race and its International Festival. Corporal works of mercy are cultivated through the Society's collection of new socks and underwear for poor and homeless served by the Joseph House on St. Clair Avenue. For more information on SJB's Holy Name Society, contact the Parish Office.
The lesson that Jerry would most like others to learn is ultimate reverence for God's name. "We encourage others to bow their heads at the name of Jesus during Mass and prayer," says Jerry. "When I hear people taking God's name in vain, I pray for forgiveness for them, and ask God to show them the way." Let us always remember to honor the Lord's name in every conversation, whether spoken, written, texted, or posted on social media.
Submitted by Christine and Robert Martuch