Meet Deacon Roger: A Joyful Heart for the Lord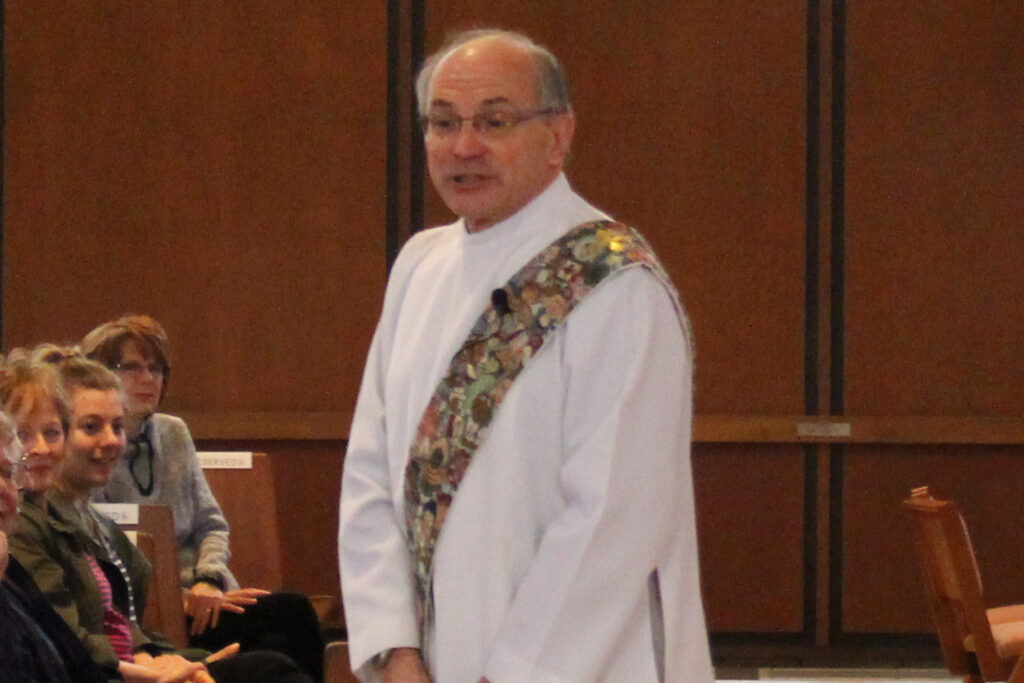 From his beginnings as a music instructor to his role as deacon at Saint John Bosco Parish, Deacon Roger Polefko's strong faith and sense of humor guide him through his amazing life journey.
Parishioners at SJB can certainly attest to Deacon Roger's enlightening homilies that are sprinkled with humorous anecdotes which illustrate important spiritual messages.
Deacon Roger's parents were devout Catholics who strongly encouraged him to strive at St. Francis de Sales elementary school as well as in PSR studies throughout his Parma High School years.  He continued to practice his faith and go to church while studying music instruction at Cleveland State University.
Music Instructor/Family Man/Deacon
Upon graduation from Cleveland State with a B.A. in music education in 1975, Deacon Roger began teaching in the Diocese of Cleveland Music program at various Cleveland Catholic schools. Deacon Roger became associated with St. John Bosco School in 1980, where he first taught instrumental music and band.  In 1995, he started teaching classroom music at SJB.
It was during his early music instruction career that he met the love of his life, Carol, who taught religion, math, and English at Villa Angela High School.  They were married at St. Procop Church in Cleveland in June, 1978.  They were blessed with four children, Theresa, Tim, and twins Andrew and Katherine.
Following their wedding, Carol and Roger became parishioners of Our Lady of Good Counsel Church (now Our Lady Queen of Peace).  Carol Polefko, a woman of great faith, began teaching PSR classes at the church.  "She pulled me into it, and we team-taught," smiles Deacon Roger.  After three years of intense study and much encouragement from Carol and his family, he was ordained a deacon by Bishop Anthony Pilla on May 21, 1994.  Deacon Roger continued to teach music at St. John Bosco School until it closed in 2008.  Since that time, he has served full-time as the church deacon.
Sadly, Deacon Roger lost his beloved wife Carol to scleroderma in June of 2016.  Throughout his life, however, the Deacon's faith remains steadfast.  "You have to remember that God is always there for you and always interested in you.  Someday, God will reveal to you how you fit into the bigger puzzle," he says.
Ministry at SJB Today
When asked about his responsibilities at SJB, Deacon Roger responds, "Whatever God calls me to do."  He teaches pre-baptism classes for parents, visits the infirm at East Park, Greenbrier, and Park Creek nursing homes, leads prayer services at funeral homes and cemeteries, and performs baptisms and marriages.  He also serves as spiritual advisor for the SJB Ladies' Guild and Seniors' Group.  He credits the success of his ministry to the love and support of his family and parish.  "The parishioners of Saint John Bosco have been very positive and supportive of my ministry since day one," notes Deacon Roger.  "All of the priests have been amazingly supportive.  I've been very blessed."
Contributed by: Christine and Bob Martuch