Your Name and Your Dignity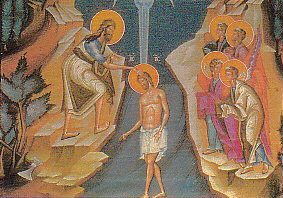 In her book, The Organic God, Margaret Feinberg tells a wonderful story that offers a glimpse of the teaching style of the late poet Maya Angelou at Wake Forest University.
One year Ms. Angelou spent the entire first class having the students introduce themselves and spelling their names. At the second and third meetings, Ms. Angelou went around the room again to review the students' names. After the third go-around with the names, Ms. Angelou asked the class, "Why did I just spend nearly 20 percent of our very valuable class time together making sure you knew each other's names?" After a deafening silence, she answered her own question: "Because you name is a sign of your dignity. And when you recognize someone's name, you recognize them not just as a human but as a person. One of the greatest ways you bestow human dignity on someone is by calling them by name."
In baptism, we are given a name and a dignity. We are given not just the name by which we will be addressed throughout life, but we are also given the name of Christ.
The name of "Christian" we claim in baptism is both a dignity and a responsibility. In the waters of baptism, we are reborn into the life of Christ. The Spirit of God re-creates us as sons and daughters of God. We become heirs of the promise of the Resurrection.
In baptism, we also take on the work that comes with the name "Christian." We promise to live for others rather than ourselves. We resolve to seek the will of God in all things. We commit to walking as children of the Light – keeping the flame of faith alive in our hearts.
The baptism we received, however many years ago, was not a singular milestone or naming ceremony but an ongoing commitment that continues every day of our journey to the dwelling place of God. We must never forget that reality!
This coming Sunday, January 11th is the Feast of the Baptism of the Lord – and with this celebration the Christmas Season comes to a conclusion. As we celebrate this Feast, let us also celebrate the name of Christ we took on in the waters of our own baptisms and recommit ourselves to the work of being disciples of Jesus. Reflecting his love, his peace, and his mercy to all we encounter.
Question – This is a good week to reflect on the following question, "How am I keeping the 'flame of faith alive in my heart' and reflecting it in the way that I live?