What the Saints in our lives Declare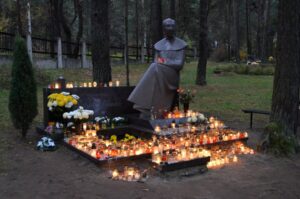 What gets a person formally recognized as a saint is evidence that he or she lived a life of heroic holiness and stands as a worthy example for others. So when we think about the saints, it is natural to focus on what they did. This is well and good. But Kevin Perrotta reminds us in his reflection on the Solemnity of All Saints, "We also must grasp that what they did, essentially, was to cooperate with God's grace."
The month of November is traditionally the month in which the Church invites us, out of love, to recall and pray for our beloved dead, hoping and trusting in God's mercy to welcome them to heaven. Many of our beloved dead, our relatives and friends, are numbered among the "saints" of our lives. While the Church may never formally canonize them, we believe that many of them cooperated with God's grace throughout their lives. They are examples to us of Christian life. Their quest for holiness has helped us to be a holier person. Doesn't that make them worthy of the title – saint?
Our Catholic faith, celebrated yesterday on the Solemnity of All Saints, reminds us of the "Communion of Saints." It is a belief, found in the Apostles Creed by the late 5th century, but it goes back much further in popular devotion. It describes the church as a community or fellowship of all the faithful, living and dead, called together by God and transformed in Christ and the Holy Spirit. The saints of our lives are among this "Communion of Saints" because they showed us the way to everyday holiness that we can embrace as we honor them in prayer and witness.
Father Gaetano Menegatto, a priest of the Congregation of Saint Joseph in Avon, Ohio who died three years ago, was probably the holiest priest I've known. He taught me in high school at Elyria Catholic and continued to be a support to me during my seminary formation and as a brother priest. His first prayer every morning was, "Lord, help me to do your will, and help me to be what the people believe me to be." That certainly is being open to God's grace. I would number him among the saints in my life. Yes, there are many others that I will remember in a particular way this month. I'm sure that you have many saints in your life as well.
I offer this suggestion for your prayer this month. Look through your bible or the box where you have prayer cards from wakes you have attended. Allow those cards become your "Litany of the Saints." It might enable you to pray with me – dad, your life was cut short at 53 years of age by a heart attack, pray for us. Debbie, a cousin taken in the prime of life after a courageous struggle with cancer, pray for us. Emma, the elderly lady always praying in the church when as grade school students we came for the school Mass, pray for us. You get the idea. Take the time to prayer your own "Litany of the Saints." It will be a wonderful reminder of the saints who help you to be a holy person.
On Tuesday evening, November 8th at 7:00 pm we will have a special Mass of Remembrance for those who were buried from our parish from October 23, 2015 to October 17, 2016. I encourage you, if you live in the area, to do your best to come and gather with families of our recently deceased in prayer and a time of fellowship after Mass in the Bell Tower.
Question – Who are the saints in your life that you honor in prayer during the month of November?