Veterans Day 2019 – Thank-you to all of our Veterans.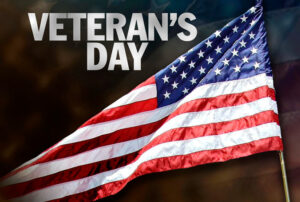 During the Vietnam War, Mike Christian, a Navy navigator from Alabama, was imprisoned by the Viet Cong. Toward the end of the war, the guards would allow the Americans to receive modest packages from the Red Cross that included articles of clothing. Mike fashioned a needle out of bamboo and, taking red and white scrapes of cloth from the packages, sewed an American flag onto the inside of his blue prisoner's shirt. Every afternoon, before eating their daily meal of thin soup, the Americans would hang Mike's flag on the wall and together recite the Pledge of Allegiance. No other event in their day had as much meaning for Mike Christian and his fellow prisoners.
One afternoon, the guards discovered Mike's flag and confiscated it. That evening they dragged Mike out of the cell and beat him severely, breaking several of his ribs and puncturing an eardrum. The guards made sure that the other Americans could see and hear exactly what was happening, When they had finished with him, the guards dragged him, bleeding and nearly unconscious, back to his cell. The other prisoners helped Mike to his place and cleaned his wounds as best they could.
One of the prisoners was a young Air Force lieutenant named John McCain. The late McCain remembered – "As I was drifting off, I happened to look toward a corner of the room lit by one of the four bulbs that always stayed on. There in the dim light was Mike Christian. He had crawled there after he thought we had all fallen asleep. With eyes nearly swollen shut from the beating, he picked up his needle and thread and began sewing a new flag."
For Mike Christian, the flag was more than just a decoration and the Pledge of Allegiance was more than a collection of words. Especially in the desperate circumstances of their imprisonment, the flag was a visual testimony of the beliefs they were prepared to give their lives for. The Pledge of Allegiance was a covenant that binds our nation's people together under the principles of life, liberty and happiness under God.
Today is Veterans Day. National ceremonies commemorating Veterans Day occur each year at the memorial amphitheater built around the Tomb of the Unknowns at Arlington National Cemetery in Virginia. At 11:00 am on November 11, a color guard representing all military services executes "Present Arms" at the tomb. Then the presidential wreath is laid upon the tomb. Finally, the bugler plays taps.
Veterans Day should be a day when Americans stop and remember the brave men and women who have risked their lives for the United States of America. As President Dwight Eisenhower said, "It is well for us to pause, to acknowledge our debt to those who paid so large a share of freedom's price. As we stand here in grateful remembrance of the veterans' contributions we renew our conviction of individual responsibility to live in ways that support the eternal truths upon which our Nation is founded, and from which flows all its strength and all its equality that they fought for and defended."
From the soldiers of the American Revolutionary War, to the present-day soldiers serving overseas in countries throughout the world. This day is all about them and what they are doing for us. Whether you sing a patriotic song, or simply look at photographs of your own veteran, there are so many ways to celebrate this day. I encourage you to take a few minutes to view this amazing Tribute of our Veterans.
Every year, this day is an opportunity for us to thank these brave men and women for keeping us safe through their heroism and efforts. Today, say a special prayer for them – and be sure to take the time to say "thank-you" & give a warm handshake to the veterans you meet.
I encourage the Veterans who are reading today's blog, as well as their families, to check out the list of Veterans Day discounts on restaurants, goods, services and events for 2019 – by simply clicking on this "Veterans Day Appreciation" link.