Two Feasts That We Will Soon Celebrate – All Saints and All Souls.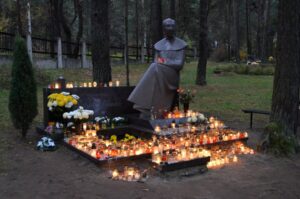 In the musical play Rent, that will be at the Palace Theatre in Cleveland next spring, a group of friends wonder, "How do you measure the life of a woman or a man?"
They sing:
            "525,600 minutes, 525,600 moments so dear.
            525,600 minutes – how do you measure, measure a year?
            In daylights, in sunsets, in midnights, in cups of coffee?
            In inches, in miles, in laughter, in strife?
            In 525,600 minutes – how do you measure a year in the life?"
It is sobering to reduce a year in the life to cold numbers: 525,600 minutes. Each moment takes on a new sense of specialness, of uniqueness, of preciousness.
So, how do you measure a year in the life? The tendency of our world is to look first at numbers: income, net worth, portfolio value, profit and loss.
But if we understand that each year – each day, each hour, each minute, each second – is gift from God, then we need a new unit of measure. Sadly, sometimes it takes the death of a loved one for us to become aware of the preciousness and the meaning of these minutes and years we have been given.
In the Sermon on the Mount (Matthew 5:1-12), Jesus calls us to measure our years in terms of the things of God. In humble generosity to others. In mercy, comfort and forgiveness joyfully given. In holiness strived for. In justice won. In peace realized. In principles defended. In beliefs lived. This is what makes us blessed – holy in the eyes of God!
Our deceased loved ones no longer measure their life in terms of minutes and years, or in terms of wealth and possessions. We pray that the reign of God is now theirs. That they have inherited the promise of the Resurrection. That they sit at God's table. That mercy and consolation is theirs. That they are now among the "Communion of Saints" who are standing face to face before God.
The Solemnity of All Saints is next Wednesday, November 1st – and it is a holyday of obligation. You are invited to join us for Mass. At Saint John Bosco, a Vigil Mass will be celebrated on Tuesday evening at 5:00 pm. On Wednesday Mass will be celebrated in the morning at 7:30 am, at 12:00 noon, and in the evening at 7:00 pm.
The Commemoration of all the Faithful Departed, commonly referred to as All Souls Day, is on Thursday, November 2nd. While not a holyday of obligation, I encourage you to try to come and celebrate Mass on All Souls Day. On that Thursday Mass will be celebrated at 12:00 noon and at 7:00 pm in the evening at Saint John Bosco.
Our Catholic commitment to community, or "communion," is so strong, that we believe that even death cannot separate us from one another. We know that we continue to be connected in a special way to those who have died in Christ Jesus. Because of the immortality of the soul, we believe that we can and do remain in communication with the deceased faithful followers of Christ through the communion of saints. The communion of saints is made up of, not only canonized (official) saints, but all of those faithful followers of Jesus who have passed from this life to the next – parents, grandparents, uncles, aunts, cousins, friends, neighbors, and so on. Through their prayer and intercession, we can be helped. By that same token, through our prayers, our beloved dead find assistance.
As we remember them during the month of November, a month in which we are invited to pray for the dead, let us do so with grateful hearts for the measure of their years. May we remember the many ways in which they lived out the Beatitudes from the Sermon on the Mount. In their finding God, they have showed us God – they have shown us how to be holy!
Father Gaetano Menegatto, a priest of the Congregation of Saint Joseph in Avon, Ohio who died four years ago, was probably the holiest priest I've known. He taught me in high school at Elyria Catholic and continued to be a support to me during my seminary formation and as a brother priest. His first prayer every morning was, "Lord, help me to do your will, and help me to be what the people believe me to be." That certainly was the measure of his life! I would number him among the saints in my life. Yes, there are many others that I will remember in a particular way in November. I'm certain that you have many saints in your life as well.
Allow me to offer a suggestion that you might incorporate into your prayer throughout the month of November. Over the next couple of days take some time to look through your bible or the box where you have prayer cards from wakes you have attended. Look those prayer cards over carefully. Then, pick out a number of the prayer cards and allow them to be your personal "Litany of the Saints" that you will pray daily throughout November. It might enable you to pray with me – dad, your life was cut short at 53 years of age by a heart attack, pray for us. Debbie, a cousin taken in the prime of life after a courageous struggle with cancer, pray for us. Emma, the elderly lady who was always praying in the church when as grade school students we walked in for school Mass, pray for us. Kenny and Bob, pastors in who taught me how to be good and loving to the people entrusted to my pastoral care, pray for us. You get the idea.
Spend the next seven days preparing your own "Litany of the Saints." That exercise will be a wonderful reminder of the saints who help you to be a holy person. It will also enable you to see the measure of the lives of the saints who have been a part of your life.
May our remembrance of our beloved dead through the month of November, remind us to recalibrate the measure of our own years, and minutes according to the gauge of "blessedness." Are we up to that task?
Question – As you reflect on the lives of you beloved dead, are you willing to share a blessedness" that one of them gave you – and thereby revealed the face of God to you?