Tonight Is An "Evening of Confession" In The Diocese Of Cleveland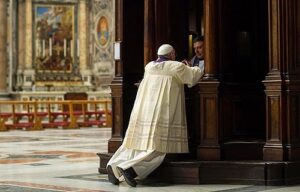 Rabbi Naomi Levy recounts this story in her book To Begin Again: The Journey Toward Comfort, Strength and Faith in Difficult Times.
A mother brought her six-year-old son, Joey, into Rabbi Levy's office. Joey was pale and shaking. The rabbi gave the boy a hug and asked him what was the matter. Joey said that his friend Andy had died in a car accident. Joey and Rabbi Levy had a long conversation about death, but the rabbi got the feeling that Joey had something very specific to get off his chest. Finally, Joey said, "When we were playing together last week, I kicked Andy on purpose."
"And you feel bad about that now?" Rabbi Levy asked. Joey started to cry and said, "Yes." The rabbi then asked, "What would Joey say to Andy if he were still alive?" To which the boy quickly replied, "I'd say, 'I'm sorry I kicked you.'"
And the minute Joey said those words, Rabbi Levy write, "it was as if a spell had been broken. This little boy felt relieved. He couldn't apologize to Andy in person, but he verbalized his regret and that seemed to lighten his load quite a bit."
There is healing that can only be experienced through forgiveness. As Joey discovered at a very young age, life is too fleeting and precious to waste away in needless recriminations, pointless anger, and stifling guilt. Throughout the gospels Christ reminds us that forgiveness is freely given by a God who loves us and wants nothing more than for us to experience His love and mercy. Yet, he also challenges us to forgive in the same way God forgives us.  Living this way will always lead to peace.
Pope Francis frequently speaks about the need to experience the forgiveness of the Lord in the sacrament of reconciliation – confession. We've all heard him say that "God never tires of forgiving us." That is an important truth for all of us to remember – especially during Lent, when we are called in an intentional way to turn away from sin and be faithful to the gospel.
In his Angelus address on February 22nd Pope Francis explained why we need to go to confession. He summarized it with this phrase, "because we are all sinners – who need to experience God's forgiveness and mercy." He then passed out a small booklet, "Safeguarding your Heart," to those gathered that includes some questions to use as one examines their conscience.
This evening from 5:00 to 8:00 pm in all of the parishes throughout the Diocese of Cleveland, including Saint John Bosco in Parma Heights, priests will be available for confession. If you have been away from the sacrament for a long time, please take the words of Pope Francis to heart. Don't be afraid to go to confession – whether it is this evening or at another time. The love of God is there. Don't we all need to experience the tender embrace of God?
Question – When was the last time that you experienced the forgiveness of the Lord in confession? What's holding you back from hearing the Lord Jesus say, "I love you, I forgive you"?