Today Is Ash Wednesday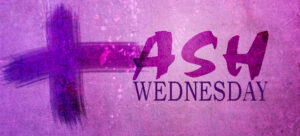 It is easy to identify a Catholic on Ash Wednesday. Our signature of ashes gives us away.
In the early Church, when Lent was a time for reconciliation of public penitents, the penitents would come to church at the beginning of Lent, that is, on Ash Wednesday. They would wear a penitential garment, suggesting sackcloth, and be sprinkled with ashes. Then they would be ritually expelled from the assembly to do their penance for forty days, returning to the church on Holy Thursday, when they would be readmitted to the sacraments.
With time, the expulsion of penitents disappeared, but the ashes remained, and became a call to penance of all the faithful. In the scriptures, sackcloth and ashes are the signs of repentance.
Today, during the forty days of Lent, the Church asks us to spend more time in intentional prayer, to fast, to abstain from meat on Fridays, and to practice charitable giving for the sake of others. Recalling Jesus' forty day fast in the wilderness, we believe that our participation in these practices is a form of purification that deepens our spiritual center by stripping away what is unnecessary and reminding us of our sole reliance on God.
The Church emphasizes acts of self-denial and fraternal sharing not merely for adherence to formalities or outward displays of piety, but to echo Jesus' call for conversion. Without conversion of heart, penances remain sterile and false. However, interior conversion urges expression in visible signs, gestures and works. Saint Augustine, a fourth century bishop, taught: "If you want your prayers to fly to God, equip them with the two wings of fasting and almsgiving." This good advice encourages us to pursue the "holy trio" that the church calls us to each Lent. Like faith, hope and charity, the three practices of prayer, fasting and almsgiving work together to turn us from self-centeredness and help equip us to love God and our neighbor more deeply. By opening us to His love and mercy, they help empower us to be His ambassadors in the world.
To some people, our penances might seem small and insignificant, but they are not. We may do small things, but if we do them with love, they unite us in a very real way with the sacrifice of Jesus. Our sacrifices, when joined with those of the Lord, bring grace and healing to our world, sanctity to our souls, and a deep, enduring joy that allows us to experience "resurrection" and conversion at Easter – and beyond.
A few of reminders . . .
If you live near Saint John Bosco in Parma Heights – Mass and the distribution of Ashes will be celebrated today in the morning at 7:30 am, at 12:00 noon, and in the evening at 7:00 pm. Know that you are welcome to join us today!
Ash Wednesday is a day of abstinence from meat (and any meat based food) and a day of fasting. All of the Fridays of Lent are days of abstinence from meat (and any meat based food). The law of abstinence binds all Catholics 14 years and older. The law of fast allows a person to eat one full meal. Two smaller meals may be eaten, but they should not equal one full meal. The law of fasting binds all Catholics from their 18th birthday until their 59th birthday.
At Saint John Bosco, daily Mass during Lent will be celebrated in the morning on Monday and Wednesday at 7:30 am; on Tuesday and Friday at 12:00 noon; and in the evening on Thursday at 7:00 pm. I invite you to consider joining us at daily Mass during Lent.
Finally, at Saint John Bosco we will pray the Stations of the Cross on Friday evening at 7:00 pm during Lent. You are welcome to join us for this Lenten devotion.
Question – Take a minute to share with us what you will be doing to embrace the discipline of prayer, fasting and almsgiving during the next forty days?