The Solemnity of the Assumption – Mary's Journey!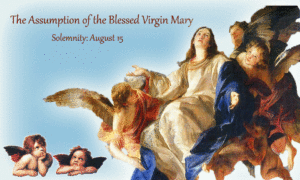 Although it is not mentioned in Scripture, the Assumption of the Blessed Virgin Mary has been a solidly held belief of our Catholic faith since apostolic times. It has been officially celebrated by the Catholic Church since the 6th century.
On November 1, 1950, Pope Pius XII declared this belief to be a dogma of the Catholic Church. In doing so, he wrote in his Apostolic Constitution, Munificentissimus Deus, "The Immaculate Mother of God, the ever-virgin Mary, having completed the course of her earthly life, was assumed body and soul into heaven."
The Solemnity of the Assumption of the Blessed Virgin Mary is a holy day of obligation for Catholics – meaning you need to get to Mass today! At Saint John Bosco Mass will be celebrated today in the morning at 7:30 am, at 12:00 noon, and again in the evening at 7:00 pm.
The gospel that the Church offers for our reflection today is Luke 1:39 – 56. That passage begins with a journey. "Mary set out and traveled to the hill country in haste to a town of Judah, . . . "
Not only does Mary take a journey to this hill country but, with this event, the great journey of her life begins. An adventure that will not end until her final journey, to heaven, on the feast we celebrate today – her Assumption.
Today I invite you to reflect on Mary as a woman who was on a continual journey. By necessity, she was always on the move!
After this initial journey to Judah to visit with Elizabeth, Mary will embark on a difficult trip, pregnant, to Bethlehem. After giving birth to Jesus, she and Joseph will be on the move again – fleeing to Egypt in order to escape death.
We will find her traveling again, this time to Jerusalem, where Jesus ends up wandering away from her and Joseph. We find her journeying in search of him. Once he is found, the journey continues to Nazareth, where he would be obedient to them, growing in wisdom and age and grace before God and men.
Mary, as the first of the disciples, in many ways prefigures all of the disciples who will follow. Those who traveled, mostly on foot, throughout the world to spread the gospel and proclaim the good news. Her life begins as she literally carries Jesus in her womb and goes to her cousin and speaks the words that are at the heart of any disciple's proclamation, "My soul proclaims the greatness of the Lord; My spirit rejoices in God my Savior"
We can only imagine what other journeys she took in the course of her life. One in particular can never be forgotten. The most difficult of all – as she followed her son on His journey to Calvary. Standing at the foot of his cross!
Today we celebrate her ultimate journey – her assumption into heaven, body and soul. The woman who journeyed throughout her life – setting out, traveling, searching, fleeing – finally is given a place of honor by God who has "looked with favor on his lowly servant."
Today's feast marks the end of Mary's earthly story, and the beginning of one that continues to this day in heaven. Although she has left this world, Mary is not removed from us. Her life is closely intertwined with ours.
All of us, like Mary, are on a journey. All of us are journeying to places we may not understand, to destinations we cannot imagine. This is life. The journey isn't easy. But we follow the example of Mary, the first among all disciples. Trusting the God will guide us on our way. The God who walked the journey with her, walks with us on our journey.
We pray that our journey will lead us to meet her face to face – in that place prepare for her and for all who follow Jesus, who is the way and the truth and the life!
A reminder to those who live around Saint John Bosco Parish in Parma Heights – our International Festival begins tomorrow, Thursday, August 16 and continues through Sunday, August 19. Everything happens on our property – 6480 Pearl Road in Parma Heights.
There will be amazing fireworks just after 10:00 pm this Friday, August 17. The Grand Prize drawing – with a cash prize of $10,000.00 is on Sunday evening. Know that you are invited to join us any day of our Festival – whether you live nearby or have to drive a little bit in order to get here. It's a great summer time activity right here in our neighborhood – with ethnic foods, ice cream, kiddie & adult rides, games of chance, and wonderful live music. In my opinion, it really is the place to be in the Parma Heights, Brook Park and Middleburg Heights his weekend. By the way – say a prayer for comfortable, seasonable weather!
To slow down my life a little during these summer days, I'm blogging once a month. My next blog will be on September 12th.