The Solemnity of Christ the King and Judgment Day – What's the Connection?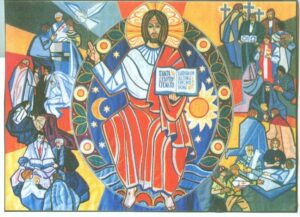 A father was explaining to his daughter the changes in his political views over the years.
"When I was in college, I owned nothing and liked the idea of sharing wealth, so I considered myself a socialist.  After your mom and I married and I bought my first new car, I became a liberal.  Then I got a good job and we bought our first home, so I became a capitalist.  As I got older I invested my savings and made a fair amount of money, I became a conservative.  And now that I am able to help my family and give money to the church and several charities, I'm not sure what to call myself."
His daughter rolled her eyes and said, "How about 'Your majesty'!"
Over the last twelve months, we have traveled with Jesus from Bethlehem to Jerusalem.  We have journeyed with him from the cenacle to Calvary.  From the empty tomb to the Mount of the Ascension.
In the course of the past year, we have been taught by Jesus at the lakeside, the marketplace, the open field and the temple.  We've been inspired by his compassion, amazed at his wisdom, touched by his forgiveness, and transformed by his love.
On Sunday we conclude the church year with the celebration of the Solemnity of Christ the King.  This week is a good time to reflect on how we have invited the Jesus we have met along the way into our lives.  Have we welcomed Him only into the slots and compartments marked "religion"? Have we welcomed Him into every decision, every aspect, and every moment of our lives?  Have we reached out to Him in family, friends, neighbors, and coworkers?
I encourage you to take a few minutes to prayerfully read the scriptures for this Sunday before you come to Mass (that is a good practice every week).
When and where do we see Christ?  The child acting out is Christ crying for help.  The co-worker frustrated by the new computer program is Christ needing encouragement.  A friend suffering a serious illness is Christ in need of a visit and comfort.  Those not in our immediate presence – the hungry and homeless, the imprisoned and alienated, the immigrant and stranger – are also Christ begging for our care and response according to our ability.  All persons are the Christ for us – and it's how we respond that determines how we will be judged.
Question – What enables you to hear Christ say, "Come, you who are blessed by my Father"?