The Power of the Christmas Carol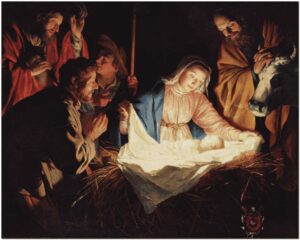 Why is it that Christmas carols, the same ones we sing year after year, mean so much to us? I hear "Silent Night," and I think of my mom setting up the crèche in our dining room when I was young. I hear "O Holy Night," and I remember being part of the boys' choir in my home parish at Christmas. "Joy to the World" reminds me of Christmas caroling with the young people at my first assignment and the smiles on the faces of the homebound as we sang.
It is precisely the memories that are attached to the carols that make them so powerful to us. These memories are part of our Christmas tradition. These traditions are part of the parcel of faith that has been handed down to us. We add to it and then we hand it on to others – to family and friends. When we have been given so much it becomes essential that we share it with others. It is more of a gift than any of the wrapped presents we will open these evening or tomorrow morning.
The music of the Christmas Season sounds out of place in July or instead of our national anthem at a baseball game. But the reality of what we celebrate at Christmas is for every single day of our lives. It is never out of place to share God's loving presence with others. The Light and the Word born into our world has been memorialized in hymns and carols since the angels sang "Glory to God in the highest" that first Christmas. But it lives on through our actions today and every day. Do your best to share the beauty of Christmas in all of your celebrations during the Christmas Season, which continues until the Feast of the Baptism of the Lord on January 11, 2015, and all year long.
You are most welcome to join us at Saint John Bosco for Christmas Eve Mass at 4:00 pm, 6:00 pm or 10:30 pm – or for Christmas Morning Mass at 8:30 am or 11:00 am. We'd love to have you join us for Mass – and, of course, the Christmas carols!
Be sure to take the time during these Christmas Days to listen to your favorite Christmas carols – or to click on the ones above and let them bring back some memories.
A Blessed and Merry Christmas to all of you!
Question – What is your favorite Christmas carol? When you reflect on it, what memories come to mind?