The Power of the Christmas Carol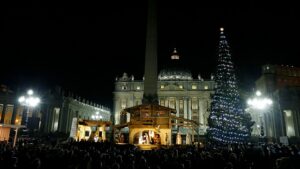 Why is it that Christmas carols, the same ones we sing year after year, mean so much to us? I hear "Silent Night," and I think of my mom setting up the crèche in our dining room when I was a child. I hear "O Holy Night," and I remember being part of the boys' choir standing in the choir loft at Saint Agnes Parish in Elyria at Christmas. "Candlelight Carol" reminds me of the fifteen Christmases that I spent at the Cathedral of Saint John the Evangelist. Pentatonix's rendition of "Mary, Did You Know?" brings back the memory of a young boy at Saint John Bosco who told me on my second Christmas here that it was his favorite carol; and then looked me in the eye with great confidence saying, "Father, I sure hope that the choir will be singing it this year because they didn't sing it at Mass last year!"
It is precisely the memories that are attached to the carols that make them so powerful to us. These memories are part of our Christmas tradition. These traditions are part of the parcel of faith that has been handed down to us. We add to it and then we hand it on to others – to family and friends. When we have been given so much it becomes essential that we share it with others. It really is more of a gift than any of the wrapped presents we will open on Christmas Eve or Christmas morning.
The music of the Christmas Season sounds out of place in July or instead of our national anthem at a baseball game. But the reality of what we celebrate at Christmas is for every single day of our lives. It is never out of place to share God's loving presence with others. The Light and the Word born into our world has been memorialized in hymns and carols since the angels sang "Glory to God in the highest" that first Christmas. But it lives on through our actions today and every day. Do your best to share the beauty of Christmas in all of your celebrations during the Christmas Season, which continues until the Feast of the Baptism of the Lord on January 9, 2017, and all year long.
This past Sunday Pope Francis reminded the world in his Angelus Address that with Christmas just around the corner, it's important to stop and make time for silent reflection on the true meaning of Christmas.
He encouraged pilgrims, that's you and me, to take time to reflect on what it was like for Mary and Joseph to travel to Bethlehem, imaging "the path, the fatigue, but also the joy, the emotion and then the anxiety of finding a place, the worry" and whatever else might come to mind.
Contemplating the Nativity scene is a good way to keep one's focus where it should be, Francis said, and then he explained that his hope is that everyone would be able to really enter into "the true Christmas," in which Jesus draws near to us as "God with us."
The grace of Christmas is one of love, humility and tenderness, he said, and prayed that all would be able to receive this grace with openness and confidence in God. Pope Francis then focused on the figures of Mary and Joseph in Sunday's Gospel reading from Matthew in which Joseph had decided to divorce Mary quietly after finding out about her pregnancy, but changes his mind and takes her as his wife after the angel Gabriel appeared to him in a dream, telling him not to fear.
In becoming man, "God draws near to the human being taking the flesh of Mary," the Pope said, noting that God also draws near to us, but in a different way. Through his grace, God enters our lives and offers his own Son as a gift, Francis said, asking "what do we do? Do we welcome him, or refuse him, or kicking him out?"
Just as Mary allowed God to "change the destiny of mankind" by opening herself freely to him, we must also try to seek Jesus and to follow his will every day, he said. If we do this, we will be able to cooperate "in his plan of salvation for us and for the world." "Mary appears to us, then, as a model to look to and support on whom we count in our search for God and in our commitment to building a civilization of love."
Pointing to St. Joseph, Pope Francis said that as shown in the Gospel, on his own he can't give an explanation for what he sees unfolding before him. However, it is precisely in that moment that God draws near to him through the angel, revealing the true nature of Mary's mysterious pregnancy.
In responding to the angel's invitation, Joseph "doesn't reject his bride, but takes her with him," Francis said, explaining that Joseph welcomed Mary with full knowledge and love for "he who in her was conceived by the marvelous work of God, for whom nothing is impossible." "Joseph, a humble and just man, teaches us to always trust in God, to let ourselves be guided by him with willing obedience."
Francis closed his address saying that Mary and Joseph truly introduce us "to the mystery of Christmas." "Mary helps us to put ourselves in an attitude of availability to welcome the Son of God in our lives, in our flesh. Joseph spurs us to always seek the will of God and to follow it with full trust."
Sometime between now and Christmas Eve, take a little time to look at the figures of Mary and Joseph in your own manger scene. Allow them to speak to you of God's love that has come down to us in his son – Jesus Christ, the newborn Prince of Peace. Allow them, as Pope Francis suggest, to introduce you again to the "mystery of Christmas."
Please remember that the doors of Saint John Bosco are always wide open – and you are most welcome to join us for Christmas Eve Mass at 4:00 pm, 6:00 pm or 10:30 pm – or for Christmas Morning Mass at 8:30 am or 11:00 am. The parishioners of Saint John Bosco Parish and I would love to have you join us for Mass – and, of course, the Christmas carols! Please, come and celebrate the "wonder," the "mystery" of Christmas with us.
Be sure to take the time during these Christmas Days to listen to your favorite Christmas carols – or to click on the ones above and let them bring back some memories.
A Blessed and Merry Christmas to all of you!
Question – What is your favorite Christmas carol? When you reflect on it, what memories come to mind?