The Power of the Christmas Carol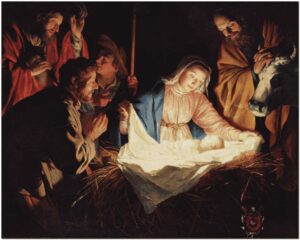 Why is it that Christmas carols, the same ones we sing year after year, mean so much to us? I hear "Silent Night," and I think of my mom setting up the crèche in our dining room when I was young. I hear "O Holy Night," and I remember being part of the boys' choir at Saint Agnes Parish in Elyria at Christmas. "Candlelight Carol" reminds me of the fifteen Christmases that I spent at the Cathedral of Saint John the Evangelist. Pentatonix's rendition of "Mary, Did You Know?" brings back memories of a young boy here at Saint John Bosco who told me on my second Christmas here that it was his favorite carol; and then said to me with great confidence "Father, I sure hope that the choir will be singing it this year because they didn't sing it at Mass last year!"
It is precisely the memories that are attached to the carols that make them so powerful to us. These memories are part of our Christmas tradition. These traditions are part of the parcel of faith that has been handed down to us. We add to it and then we hand it on to others – to family and friends. When we have been given so much it becomes essential that we share it with others. It really is more of a gift than any of the wrapped presents we will open on Christmas Eve or Christmas morning.
The music of the Christmas Season sounds out of place in July or instead of our national anthem at a baseball game. But the reality of what we celebrate at Christmas is for every single day of our lives. It is never out of place to share God's loving presence with others. The Light and the Word born into our world has been memorialized in hymns and carols since the angels sang "Glory to God in the highest" that first Christmas. But it lives on through our actions today and every day. Do your best to share the beauty of Christmas in all of your celebrations during the Christmas Season, which continues until the Feast of the Baptism of the Lord on January 10, 2016, and all year long.
On Sunday Pope Francis reminded the world in his Angelus Address that in order to celebrate Christmas constructively, "we are called to dwell in 'places' of wonder." A concept frequently sung in the music of the Christmas Season. He then explained three places of "wonder" that exist in our everyday life.
The first place of "wonder" Francis offered is "the face of the 'other' – our fellow human beings whom we recognize. Because, since Jesus' birth, every face bears the likeness of the Son of God."
He then suggested that if we look with faith, another place of "wonder" is history. "The God of Christmas is a God who 'messes up the cards.' He likes to do that. As Mary sings in the Magnificat, the Lord cast down the mighty from their thrones and lifted up the lowly, filled the hungry with good things and sent the rich away empty-handed."
Finally, Pope Francis suggested that the third place of wonder "is the Church . . . that calls on the Lord saying 'Come, Lord Jesus!' The mother Church always has its doors and arms open to welcome everyone. Indeed, the Mother Church comes out of its doors with a mother's smile to look on all those who are faraway in order to bring them towards God's mercy. This is the wonder of Christmas"
At Christmas, Pope Francis said, "God gives us all of Himself by giving His one and only Son, who is all his joy. Only with the heart of Mary – the humble and poor daughter of Zion who will become the Mother of the Son of God – can one rejoice and be glad for God's great gift and for his unexpected surprise. May she help us see the wonder of Jesus' birth, the gift of gifts, the underserved gift that bring us salvation, which will also make us feel this great wonder in the encounter with Jesus. Yet, we cannot have such an experience if we do not encounter Him with the 'other,' in history and in the Church."
To the children gathered in Saint Peter's Square, Pope Francis said, "Dear children, listen carefully: when you pray in front of your crèche, remember me as I remember you. Thank you, and Merry Christmas!" As we stand before the crèche, adults and children alike – please be sure to day a prayer for Pope Francis!
Please remember that the doors of Saint John Bosco are always wide open – and you are most welcome to join us for Christmas Eve Mass at 4:00 pm, 6:00 pm or 10:30 pm – or for Christmas Morning Mass at 8:30 am or 11:00 am. The parishioners of Saint John Bosco Parish and I would love to have you join us for Mass – and, of course, the Christmas carols! Please, come and celebrate the "wonder" of Christmas with us.
Be sure to take the time during these Christmas Days to listen to your favorite Christmas carols – or to click on the ones above and let them bring back some memories.
A Blessed and Merry Christmas to all of you!
Question – What is your favorite Christmas carol? When you reflect on it, what memories come to mind?