The Mystery of the Trinity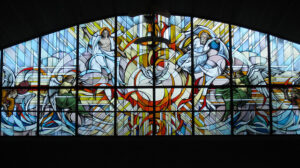 A group of scientists decided that humankind had come a long way on its own and no longer needed God. So they elected one scientist to go and tell God that they were through with him.
The scientist walked up to God and said, "God, we've decided that we don't need you anymore. We've reached the point where we can cure just about every disease. We have the technology to both destroy creation and rebuild it – even making it better. We can travel across the heavens. We can even clone people. So, God, we really don't need you anymore, and frankly, we wish you would just go away."
God listened very patiently to the scientist. When he had finished, God said: "I see. Before I go, what do you say we have a contest? A man-making contest – whichever one of us makes the best human being, wins. If I win, I stay put. If you win, I'll leave you alone, no hard feelings."
The scientist said, "All right, God, you're on."
God then added, "Now, we're going to do this just like I did it back in the old days with Adam. We both start with simple dirt."
The scientist said, "Sure, no problem," and then bent down and grabbed a handful of dirt.
But God stopped him, "No, no, no. You have to get your own dirt."
This Sunday the Church contemplates the mystery of God. The God who set all of life into motion with a handful of dirt. The God who created us and our world out of a love so perfect and complete that we cannot begin to understand it. The God who continues to re-create us and our world in the gift of his Son, the very love of God made human and real for us. The God who constantly breathes life and love and fire into us so that we can proclaim that God is with his people always.
Out of that same, mysterious love, God calls us back again and again. Not as the all-powerful creator demanding homage from the lowly objects he created, but as a compassionate father welcoming back and loving unconditionally all as his own children. God invites us into a relationship with Him not based on fear and judgment but centered in love, mercy and trust.
Sunday's celebration of the Most Holy Trinity confronts us with our response to God's invitation and our worthiness to be called God's "children."
The Church teaches the Holy Trinity as Father, Son, and Holy Spirit. Creator, Redeemer and Sanctifier. Love, Lover, and Being-in-Love. That is a lot to know about God, and so we celebrate with Trinity Sunday. But God isn't just Trinity. God is perfect love.  God is infinity. Nothing exists outside of God – and that's almost impossible to explain to someone who lacks faith.
Just a reminder that the Saint John Bosco's "SJB Run with Me" 5K run and 1 Mile walk is this Saturday, May 30.  All of the proceeds will be divided between the Parma Heights Food Pantry and the Saint John Bosco Saint Vincent de Paul Society.  You can register on-line until 11:59 pm on May 28.
A few questions for reflection – Do you relate to one Person of the Trinity more than the other two? If so, why?