The First Day – We've All Been There
I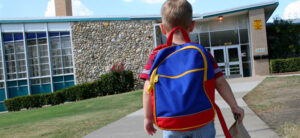 t is a scene that is taking place in many families and communities this week and next week.
It is the first day of school – the very first day for a six-year old. It is an exciting day – finally getting to go to school like the big kids! But it is a day not without a certain amount of anxiety and fear even for the most enthusiastic child, as Judith Viorst writes in her poem, The First Day of School . . .
"Will they let me go when I need to go to the bathroom?
And what if I get lost on my way back to class?
And what if all the other kids are a hundred, a thousand, a million times smarter than I am?
And what if we have a spelling test or a reading test or an . . . anything test, and I'm the only person who doesn't pass?
And what if my teacher decides she doesn't like me?
And what if, all of a sudden, a tooth gets loose?
And what if I can't find my lunch or I step on my lunch or I (oops!) drop my lunch down someplace like the toilet? Will they just let me starve or will someone lend me a sandwich? A cookie? A cracker? An apple? Some juice?
And what it they say, "Do this," and I don't understand them?
And what if there's teams, and nobody picks me to play?
And what if I took off my sneakers, and also my socks, and my jeans, and sweatshirt, and T-shirt?
And started the first day of school on the second day?
We have all been that child – and not just on the first day of school. We often find ourselves in situations where we feel like we are on the outside looking in, removed from the mainstream, alienated from any sense of belonging. Our fear of disaster overwhelms us from realizing the possibilities for growth, for discovery, for good things to happen. Then, someone nods their head, extends a hand, and with a smile says, "Hello."  All of a sudden we begin to relax and a feeling of peace replaces the butterflies that are in our stomach.
As the young people in our midst return to the classroom this week and next week, it might be a good time for all us to look at how accepting we are of the people who come into our lives. They come into our lives at home, at work, where we socialize, in our neighborhoods, and even at the parish where we gather to worship, celebrate Mass and the sacraments. Are we creating a household of love and acceptance? Are we creating a community of welcome, reconciliation and peace?
Today, some of the people who come into our lives have come from other countries looking for peace, security or a new beginning – they come from Korea, India, Mexico, China, El Salvador, and South America; they are our "new immigrants." All of them have come to the United States just like many of our ancestors did when they left Italy, Slovakia, Germany, Ireland, Spain, Puerto Rico, Philippines, or Ukraine in years gone by. Do we see these "new immigrants" as brothers and sisters in the Lord Jesus? Created in the image and likeness of God? Are we doing our best to live with them in peace and harmony? Or, do we see them in some other way?
The challenge for us as people of faith is to create a place in our lives and in the places where our lives are lived day in and day out, so that even the smallest, the youngest, the least able to contribute, and the "new immigrants" among us are as welcomed and honored as would Christ himself. We must realize that to live any other way, or to hold or tolerate prejudice in our hearts, is in opposition to being a follower of Jesus Christ, a Christian.
The events that took place in Charlottesville on Saturday have affected all of us.  The peace of a summer day was shattered by hate and rancor that turned into violence.  A young woman was killed, a number of others were seriously injured, and two state troopers lost their lives when their helicopter accidentally crashed while assisting in law enforcement efforts. There really is no room for such violence. It is in such opposition to all that we are called to be as a people and a nation. It speaks of anything but acceptance and welcome. So we pray for peace in our hearts and in the heart of our nation!
In his most recent blog, Cardinal Donald Wuerl urged us to pray for peace and join our voices to those calling for calm. "Our prayer also is that our society and culture find ways to rise above the forces of fear and antagonism and work instead for a society of true unity, peace and justice.  . . .  As Christians, as disciples of Jesus, we must redouble our efforts to bear a witness for peace and the common good."
The comments by President Trump yesterday afternoon seem to be just the opposite of what Cardinal Wuerl has urged us be and to pray for as a nation.  As Bishop Daniel Thomas, our Apostolic Administrator urged on Monday, "Join me in praying for an end to the evil of racism, hatred and violence. . . . At the same time, I encourage all of us to examine our own hearts and remove any bias that does not honor and respect others as created in God's image.  It is only in this way that together, as families, neighborhoods and communities, we can strive to eradicate the root causes of racism." Words that our President should ponder in light of his responsibility to foster healing among all of the people of our great nation.
I invite you to pray that every scared six-year-old – of whatever age, in whatever "school yard" he or she may be standing, – find reassurance and support in the "homeroom" of love, compassion, peace and welcome. Now more than ever we need to make certain that this is an intention in our prayers every day.
A reminder to those who live around Saint John Bosco Parish in Parma Heights – our International Festival begins this Thursday, August 17 and continues through Sunday, August 20. Everything happens on our property – 6480 Pearl Road in Parma Heights. There will be amazing fireworks at 10:00 pm on Friday, August 18.  The Grand Prize drawing – with a cash prize of $10,000.00 is on Sunday evening.  Know that you are invited to join us any day of the Festival – whether you live nearby or have to drive a bit in order to get here. I hope to see you at the Festival. In my opinion, it is really the place to be in the Parma Heights, Brook Park and Middleburg Heights area this weekend. By the way – say a prayer for comfortable and seasonable weather!
To slow down my life a little during these summer months, I am blogging one a month through September – so my next blog will be on September 13th.
Question – Can you identify a time or place where you felt like you were outside looking in – and how or who was it that extended a welcome to you?