The Final Days of the Journey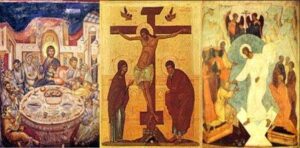 A little over six weeks ago we began a journey. One that needed prayer, fasting and almsgiving to sustain us. A journey that required each of us to look within. To see where we experience God in the ordinary rhythm of our lives. To see where change might be needed. To look upon Jesus as our model and to surrender ourselves to God's will.
Over 500 individuals at Saint John Bosco Parish have been using Matthew Kelly's Resisting Happiness to help them on their Lenten journey. That book, along with the short daily videos, has challenged us to be cooperate with God's grace in order to become the person God intends us to me. That means resisting those sluggish feelings of not wanting to do what we know is good for us and our pursuit of holiness!
We are now near the end of that journey and begin our celebration of the event of our redemption. On these sacred days, we do not simply recreate the events of Christ's life. We do not move from his triumphal entry into Jerusalem, to the Last Supper on Thursday, to Christ's death on the cross on Friday and to His resurrection on Sunday morning. Instead, we celebrate one event – Redemption. Salvation. And each day of the Triduum a different facet of this event is remembered. All of them together – form the celebration of our redemption.
Remember what we celebrated at the liturgy on Palm Sunday. In Jesus' entry into Jerusalem we see the different elements of these sacred days. First, there is joy and celebration. In a sense, Jesus was coming into His kingdom and being acclaimed as a King! But, he is a different kind of King. One who will give his life for His people. And beneath that festive mood there is tragedy. Jesus knows that quite soon the very people who acclaim Him will denounce Him. He has no illusions; He is traveling toward His death.
In your prayer during this Sacred Paschal Triduum, allow that story to guide you. Experience the many different feelings here. The joy, as well as the terror and sorrow. Remember in your prayer that Jesus is going to His death so that you and I may have resurrected life.
As I indicated at the Masses on Palm Sunday, Blessed Charles de Foucauld wrote, "Christ didn't save the world with miracles, or with preaching. He saved the world by dying on the cross." That should bring us to our knees this week.
This week, embrace the Cross of Jesus Christ. No one else has proved their love for us as Jesus did on that cross. Allow that wood, the wood of that cross, to have its effect on your life. Grasp that cross and offer your life, without reservation, to the God who made you and redeemed you.
Celebrate the Holy Thursday Mass of the Lord's Supper at your parish. That Mass is at 7:30 pm at Saint John Bosco Parish – and you certainly are welcome to join us. After that Mass, there will be Adoration of the Blessed Sacrament in our Eucharistic Adoration Chapel until 10:00 pm – when we will pray Night Prayer.
Good Friday is the one day in the whole year that the Catholic Church does not celebrate Mass – the Eucharistic Liturgy. What gathers us for prayer as a community of believers on that day is the Solemn Celebration of the Passion of the Lord. That celebration has three parts – the Liturgy of the Word, which includes the Passion according to John, the adoration of the cross (at Saint John Bosco we use a cross with a relic of the true cross), and the reception of Holy Communion. That celebration is at 3:00 pm at Saint John Bosco Parish – and again, feel welcome to join us. At Saint John Bosco, we gather to pray the Stations of the Cross at 12:00 noon on Good Friday.
Decide now which Mass on Easter you will join with your parish community in celebrating the Resurrection of the Lord Jesus. The Easter Vigil Mass at Saint John Bosco is at 9:00 pm on Saturday. Easter Sunday Masses at Saint John Bosco Parish are at 8:30 and 11:00 am. Come, join us in giving thanks to God for the greatest gift given to us – Redemption!
Question – How will you be celebrating the Sacred Paschal Triduum this year?