The Feasts That Are Just Around the Corner – All Saints and All Souls.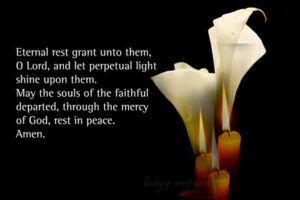 I am still on vacation, and will return this Friday. So, I hope you don't mind my sharing with you a reflection from last year.
In the musical play Rent, a group of friends wonder, "How do you measure the life of a woman or a man?"
They sing:
            "525,600 minutes, 525,600 moments so dear.
            525,600 minutes – how do you measure, measure a year?
            In daylights, in sunsets, in midnights, in cups of coffee?
            In inches, in miles, in laughter, in strife?
            In 525,600 minutes – how do you measure a year in the life?"
It is sobering to reduce a year in the life to cold numbers: 525,600 minutes. Each moment takes on a new sense of specialness, of uniqueness, of preciousness.
So, how do you measure a year in the life? The tendency of our world is to look, first, at numbers: income, net worth, portfolio value, profit and loss.
But if we understand that each year – each day, each hour, each minute, each second – is a gift from God, then we need a new unit of measure. Sadly, it takes the death of a loved one sometimes to become aware of the preciousness and the meaning of these minutes and years we have been given.
In the Sermon on the Mount (Matthew 5:1-12), Jesus calls us to measure our years in terms of the things of God. In humble generosity to others. In mercy and forgiveness joyfully given. In holiness strived for. In justice won. In peace realized. In principles defended. In beliefs lived. This is what makes of blessed – holy in the eyes of God!
Our deceased loved ones no longer measure their life in terms of minutes and years, or in terms of wealth and possessions. The reign of God is now theirs. They have inherited the promise of the Resurrection. They sit at God's table. Mercy and consolation is theirs. They have seen God face to face!
The Solemnity of All Saints is Sunday, November 1. The Commemoration of all the Faithful Departed, commonly referred to as All Souls Day, is Monday, November 2. Both days prompt us to remember our beloved dead.  Join us this weekend for the celebration of the Solemnity of All Saints – Saturday Vigil Mass at 4:00 pm, or Sunday Mass at 8:30 am or 11:00 am.  You are also welcome to join us on Monday for Mass on All Souls Day for Mass in the morning at 7:30 am or in the evening at 7:00 pm.
As we remember them on these days, and during this month in which we are invited to pray for the dead, let us do so with grateful hearts for the measure of their years. In the many ways in which they lived out the Beatitudes from the Sermon on the Mount. For in their finding God, they have showed us God.
It remains now for us to recalibrate the measure of our own years, and minutes according to the gauge of "blessedness." Are we up to that task?
Question – As you reflect on the lives of you beloved dead, are you willing to share a blessedness" that one of them gave you – and thereby revealed the face of God to you?