Thanksgiving! It Is All About An Attitude of Gratitude!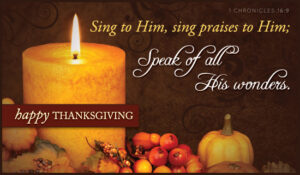 Thanksgiving! It is a word that brings back mouth-watering memories of growing up in Elyria. The dinner table, whether you were seated with the kids in the basement, the teenagers in the family room, or the adults in the dining room was a masterpiece of mom's cooking. Added to it were specialties my aunts brought for the feast. I remember the delicious turkey surrounded by heaping bowls of stuffing, homemade cranberry relish, mashed and candied sweet potatoes and other favorites. Nobody would even attempt to pick up a fork until we prayed grace – giving thanks for the blessings of the day!
For me, the only thing better than the meal was the joy of having relatives over to enjoy it with us. On that day there seemed to be laughter and chatter everywhere – as well as football games on the television and radio, and the occasional raised voices. At some point during the day my dad and my uncles would finalize the details of their annual hunting trip to Pennsylvania that would begin that Sunday.
It is tempting to believe that gratitude is instinctive, but experience proves that just is not true. I am fairly sure all of us remember the formation of the attitude of gratitude that is now part of our life. It took place when we were children. You received a piece of candy or a cookie from grandma, a gift on our birthday, or a compliment from a total stranger. Once received, there was that pregnant pause before mom or dad broke the silence with the question heard many times before, "What do you say?" Over time we internalized this training, and thanks became spontaneous.
The ritual of Thanksgiving is a beautiful one which creates lasting memories. Even the one we "celebrated" in Pennsylvania the day before the wake of my maternal grandpa. But for this ritual to have a fuller meaning, one must live by the gleanings from this day on a consistent basis.
So, create your list of things for which you are thankful. Then, take that list and look it over carefully. What will you do on a daily, weekly, and monthly basis to express your gratitude? To prevent complacency? If you take the time to do this, I promise that you will no longer be satisfied with mere platitudes on your Thanksgiving list.
Some people will express gratefulness for spouses, children and extended family. How are you committed to living out thankfulness for each of these family members? Maybe you and your spouse already have a monthly date night – perhaps it is the day of the month that you were married. Possibly you will commit to that chore you know your spouse despises, but has been doing because you are too busy. Take the afterglow of Thanksgiving and turn it into a disciple of daily living.
Many will be grateful for communities of faith, for God, and for a Savior, Jesus Christ. How will you incorporate this faith into a lifestyle that does not express itself verbally, but is lived faithfully? After all, we are not only grateful for God's constancy and for our place in God's plan, but, if we are truly to be a part of the process of redeeming the familiar, we are most thankful that with God we are given a second chance. So, what disciplines will you need to incorporate in a new way in your life to help you express thanks for being a child of the "second chance?"
I encourage you to celebrate Mass with your parish family on Thanksgiving. At Saint John Bosco Mass will be celebrated at 9:00 am on Thanksgiving morning – and you are welcome to join us. The Eucharist is a grace-filled way to begin the day focused on God's blessings in praise and thanks.
Don't allow the creep of Black Friday to gobble up Thanksgiving. Stay away from the malls and the stores on Thanksgiving – even in the "late" evening. Remember, in order for any of them to be open someone must be away from their family on Thanksgiving.
On Thanksgiving many of our homes will be filled with the smells of turkeys and pies, and the sounds of laughter, music and football. But let us also be mindful of those who will spend the day without the comfort of food, family or faith.
May God bless you and your loved ones this Thanksgiving.
Question – What will your attitude of gratitude include on Thanksgiving Day – and every day throughout the coming year?