Sunday of Divine Mercy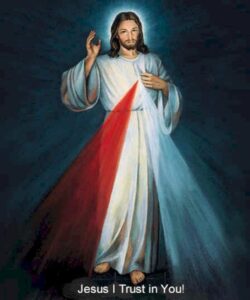 This Sunday marks the eighth and last day of the Octave of Easter, the Second Sunday of Easter, which also bears the name of Sunday of Divine Mercy. The additional title was given to this Sunday by Saint John Paul II in 2000 when he canonized Sister Faustina Kowalska.
The face of mercy looks different for each of us. For me, it was a young newly ordained priest at the parish where I grew up who also taught theology at the local Catholic high school. I wasn't sure what I wanted to do with my life and was looking for advice as my peers and I were making decisions about what college we would attend. I was confused and didn't want to talk with many people about what I considering at the time. In other words, I was a pretty normal teenager. This priest invited me to talk with him about my life and what I hoped to accomplish. That conversation gave me an inner peace. It made all the difference in who I became.
That's a short-form version of a long story, and each of us has one like it. In a time of need someone looked down, someone who didn't have to, and gave us the love, attention, and encouragement we needed. Not because we did something to earn or deserve it but because we needed it. If we take the time to remember that story, to recall it in all its details and to rekindle the hope that person's generosity generated within us, we glimpse the best face of God we'll see this side of Paradise.
Jesus with pastel rays of love shining downward and outward on a needy world was how Saint Faustina Kowalska glimpsed the face of mercy. In this she shared the vision of the first Letter of Saint John (chapter 5 verses 1-6) who writes that Jesus is the one who "came through water and blood" – which the twin rays in the Divine Mercy portrait signify. God showers compassion on the world through the twin signs of Baptism and Eucharist, rescuing us from sin and death and strengthening us with divine life and grace. Saint Faustina imagined the blood and water from the heart of Christ transfigured into light. She understood that we all have a responsibility to share the light of mercy further through deed, word, and prayer.
How did the apostle Thomas see the face of divine mercy? Perceptively, through the wounds in the body of his friend, Jesus. Much is made of Thomas' doubt; little is said about Thomas' grief. Like the rest of the disciples, he'd lost his teacher, Lord, and friend in that terrible week. When the others brought him words that they had indeed seen the Lord, he dismissed them impatiently. The only thing that would make his experience real is to see – no, to touch – the wounds of Jesus. Apparitions and affidavits wouldn't do. He had to see and touch the wounds of the cross in Christ or it would never be real for him. Perhaps this is why the most profound profession of faith in scripture – "My Lord and my God!" – belongs to Thomas. If the cross does not reveal the mercy of God, nothing can.
As we celebrate this Sunday of Divine Mercy, we must remember that God offers us His grace and mercy every day, especially through the Eucharist. Because the tomb is empty, we have freedom. When Jesus descended into hell he took sin and shame with Him. He left them there, where they belong. It is because Jesus rose that we are free.
Saint John Vianney put it beautifully when he said, "Our sins are nothing but a grain of sand alongside the great mountain of the mercy of God."
I invite you to embrace the mercy of Christ. Feel his hand lift up your head. Feel his light hit you. Remember, this great love and mercy calls for a response. Christ pours out mercy so that we can come back to Him – and calls us to be bearers of that mercy for one another.
As we celebrate this Octave of Easter, let's strive to be holy! Let's make a renewed commitment to be bearers of mercy!
Question – What has been your experience of Divine Mercy?