Summer Living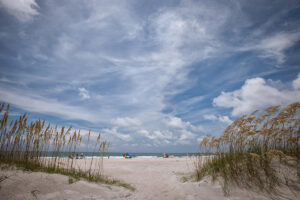 Tomorrow is the first day of summer 2018, and it's the Summer Solstice – the longest day of the year.
The days of summer tantalize our senses, offering us promises of down time and opportunities for rest and contemplation, barbeques and picnics, walks in the park and a refreshing jump in the pool. Perhaps one of the greatest contrasts summer holds in comparison to the rest of the year is that it seems so much slower, with so many more hours and, in the best of scenarios, fewer tasks to attend to and more new places to visit and explore. Time appears to stretch with the heat of the day, which is a nice reprieve from the cold and rapid pace of the previous months, filled with so many demands.
Next week I leave for my annual summer vacation on Florida's gulf coast. Those days away from the parish will allow me to walk the beach, swim, be amazed at the beauty of the setting sun, watch some great fireworks on the beach on the Fourth of July, spend quality time with my closest friend, enjoy a few beverages and some great meals off the grill and others at our local favorite restaurants, do a great deal of reading and a little napping. It will be a great opportunity to use the quiet time away from the phone and doorbell for a little more prayer and reflection. After all, now and then we all need a change in the pace of our life.
Like many of you, I fill the summer days with books that unpack some of the changes unfolding in the world we inhabit. Be they fictional or true, spiritual or mystery, these books can accompany us through our slower summer days, helping us to consciously re-emerge from vacations and into reality just a bit brighter and bolder.
Here's titles that I am working on this summer – I'll be taking a few of them to the beach, along with a number of unread magazine that have been piling up. Since my days living at the Cathedral, I've always been intrigued by the life of the American-born Capuchin priest, Father Solanus Casey. I was introduced to him years ago by a member of the Cathedral parish who gave him his prayer card – which I pray every morning. Father Solanus was known for his great faith, attention to the sick, and ability as a spiritual counselor. He was beatified on November 18, 2017, the second American-born male to receive this honor. I recently picked up a copy of Father Solanus – the Story of Solanus Casey, OFM, Cap. by Catherine M. Odell.
A member of Saint John Bosco Parish gave me a copy of A Big Heart Open to God – A Conversation with Pope Francis. The book is billed as "A Conversation with Pope Francis," who was interviewed by Antonio Spadaro, SJ. This book contains the entire interview of Pope Francis, along with an introduction by Father James Martin, SJ.
I've recently been introduced to a movement out of Halifax, Nova Scotia, Canada called "Divine Renovation." It is a movement aimed at bringing parishes from maintenance to mission. Its founder is Father James Mallon, a priest of Halifax. In his book, Divine Renovation: Bringing your parish from maintenance to mission" – Father Mallon, through humorous and colorful stories, shares many ways for injecting a new vibrant spirit into parish life.
For me, as many of you already know, anything by John Grisham is captivating. I have two of his "Kindle Singles" on my iPad – Partners: A Rogue Lawyer Short Story and Witness to a Trial: A Short Story Prequel to the Whistler – as well as his novel, The Whistler. I know that I'll get through them on the gulf coast!
As readers of my blog know, I'm always intrigued by politics and life in the White House. So, I have to admit that I picked up a copy of James Comey's A Higher Loyalty: Truth, Lies and Leadership, as well as a copy of Fire and Fury: Inside the Trump White House by Michael Wolff. 
I also picked up a copy of the latest novel by James Patterson, who wrote The President is Missing, with former President Bill Clinton.  It looks like a pretty good thriller.  From the jacket of the book . . . "The president disappears. The world is in shock. But the reason he's missing is much worse than anyone can imagine. With details only a president could know, and the kind of suspense only James Patterson can deliver."
I encourage you to make time in your schedule throughout these summer days to simply relax and enjoy all of the beauty that surrounds you. Slow down the hectic pace of your life. Take in ballgame or stop for an ice cream cone. Soak in a summer breeze with a walk along the parkway. Stop and smell the roses. Capture the beauty of the sunrise and the summer flowers. Do a little leisure reading. Plan to attend our International Festival on August 16th, 17th, 18th, and 19th. Be sure to spend a little more time with God – maybe a few more visits to our Adoration Chapel or coming to one daily Mass each week this summer.
Summer always brings us to Religious Freedom Week, which will begin on Friday, June 22nd, the Feast of Saints Thomas More & John Fisher, and continue through June 29th. The theme for this week that has been designated by the United States Conference of Catholic Bishops is "Serving others in God's love." People of faith are committed to serving others in God's love in healthcare, child welfare, migration and refugee settlement, education and more. Religious freedom protects the space in which we can continue to serve. I encourage you to join Catholics to pray and act for freedom to serve faithfully and with integrity.
Think about it now – what is it that helps you to slow down and relax? Name it – and then do your best to take the time and do it before these summer days are a memory of another one that has gone by.
Vacation Bible School will take place at Saint John Bosco the week of July 16 through July 20 from 5:30 pm to 8:30 pm for children entering Preschool (Potty Trained 3, 4 & 5 year olds) thru 6th grade in the fall of 2018. Registration forms need to be returned to the parish office by July 6th. Finally, for the summer months I will be blogging once a month. My next blog will be on July 18.
Question – Consider sharing with us how you are spending these summer months. What books are you planning to read? Are you going anywhere special? How are you simply slowing down the pace of your life?