Summer Living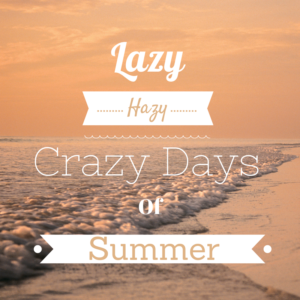 Today is the first day of summer 2017, and it's the Summer Solstice – the longest day of the year. As Nat King Cole sang, it's now time to, "Roll out those lazy, hazy, crazy days of summer. Those days of soda, pretzels and beer. Roll out those lazy, hazy, crazy days of summer. Dust off the sun and moon and sing a song of cheer."
The days of summer tantalize our senses, offering us promises of down time and opportunities for rest and contemplation, barbeques and picnics, walks in the park and a refreshing jump in the pool. Perhaps one of the greatest contrasts summer holds in comparison to the rest of the year is that it seems so much slower, with so many more hours and, in the best of scenarios, fewer tasks to attend to and more new places to visit and explore. Time appears to stretch with the heat of the day, which is a nice reprieve from the cold and rapid pace of the previous months, filled with so many demands.
Next week I leave for my annual summer vacation on Florida's gulf coast. Those days away from the parish will allow me to walk the beach, swim, be amazed at the beauty of the setting sun, watch some great fireworks on the beach on the Fourth of July, spend quality time with my closest friend, enjoy a few beverages and some great meals off the grill and others at our local favorite restaurants, do a great deal of reading and a little napping. It will be a great opportunity to use the quiet time away from the phone and doorbell for a little more prayer and reflection. After all, now and then we all need a change in the pace of our life.
Like many of you, I fill the summer days with books that unpack some of the changes unfolding in the world we inhabit. Be they fictional or true, spiritual or mystery, these books can accompany us through our slower summer days, helping us to consciously re-emerge from vacations and into reality just a bit brighter and bolder. Here's titles that I am working on this summer – a few of them will be with me at the beach, along with a number of unread magazine that have been piling up.
Father James Martin, a popular Jesuit and the editor at large of America magazine, in his book Jesus: A Pilgrimage, invites readers to experience the stories of the Gospels in a completely new, vivid and exciting way. Moving sequentially through the Gospels, considering not only familiar passages, but also the "hidden life" of Jesus, the book offers a bold retelling of the life of Christ, faithful to the Christian tradition, while meditating on parts of the narrative that have often escaped notice. The book is an invitation to know Jesus as Father Martin knows him: Messiah and Savior, as well as friend and brother.
Hearts of Fire, is a book written by the Voice of the Martyrs – a nonprofit, interdenominational organization dedicated to assisting the persecuted church worldwide. Hearts of Fire introduces the reader to eight courageous women in the underground church and their stories of costly faith. These women are heroines of the faith, who are representatives of countless women facing similar situations around the world. A free copy was sent to me by this ministry – with a card that read, "Our prayer is that the testimony of these women will be an encouragement and inspiration to your own faith."
R. Scott Hurd's Around the Table, retells the story of the Eucharist through the eyes of fourteen of Jesus' followers – including Thomas, Barnabas and Mary Magdalene. In this book the Hurd incorporates traditions of the Church and his own lifelong fascination with the Eucharist to help the reader know Christ better, contemplate scripture, and deepen your understanding of the Eucharistic mystery we celebrate today.
For me, anything by John Grisham is captivating. Camino Island is his most recent novel. I have it, as well as A Criminal Defense, by William L. Myers, Jr, on my iPad. I know that I'll take care of both them on the gulf coast!
Some may say that the "lazy, hazy, crazy days of summer" that Nat King Cole sang of are long gone because of the busyness of our lives. Yet, I think that we can bring those days back if we make the time to capture moments when time stands still. Moments that can become memories and give us the ability to face the difficulties and struggles of our lives with vision and hope.
So, I encourage you to make time in your schedule throughout these summer days to simply relax and enjoy all of the beauty that surrounds you. Slow down the hectic pace of your life. Take in ballgame or stop for an ice cream cone. Soak in a summer breeze with a walk along the parkway. Stop and smell the roses. Capture the beauty of the sunrise and the summer flowers. Do a little leisure reading. Plan to attend our International Festival on August 17th, 18th, 19th, and 20th. Be sure to spend a little more time with God – maybe a few more visits to our Adoration Chapel or coming to one daily Mass each week this summer.
Think about it now – what is it that helps you to slow down and relax? Name it – and then do your best to take the time and do it before these summer days are a memory of another one that has gone by.
Finally, for the summer months I will be blogging once a month. My next blog will be on July 18.
Question – Consider sharing with us how you are spending these summer months. What books are you planning to read? Are you going anywhere special? How are you simply slowing down the pace of your life?