Summer Living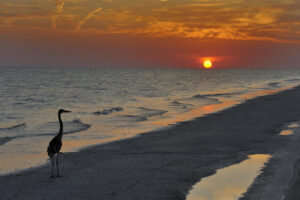 Having experienced a variety of Cav's celebrations and the Parade in downtown Cleveland, Independence Day, and graduations, summer is now tantalizing our senses, offering us promises of down time and opportunities to rest and contemplate, barbeques and picnics, walks in the park and a refreshing jump in the pool. Perhaps one of the greatest contrasts summer holds in comparison to the rest of the year is that it seems so much slower, with so many more hours and, in the best of scenarios, fewer tasks to attend to and more new places to visit and explore. Time appears to stretch with the heat of the day, which is a nice reprieve from the cold and rapid pace of the previous months, filled with so many demands.
I'm nearing the end of my vacation on Florida's gulf coast. These days away from the parish have allowed me to walk the beach, swim, be amazed at the beauty of the setting sun, watch some great fireworks on the beach on the Fourth of July, spend quality time with my closest friend, enjoy a few beverages and some great meals off the grill and others at our local favorite restaurants, do a great deal of reading and a little napping. It has also been a great opportunity to use the quiet time away from the phone and the doorbell for prayer and reflection. After all, now and then we all need a little change in the pace of our life.
Like many of you, I fill the summer with books that unpack some of the changes unfolding in the world we inhabit. Be they fictional or true, spiritual or mystery, these books can accompany us through our slower summer days, helping us to consciously re-emerge from vacations and into reality just a bit brighter and bolder. Here's titles that I am working on this summer – a few of them are with me at the beach.
Lisa Hendey, founder and editor of Catholic Mom.com. in her book The Grace of Yes – Eight Virtues for Generous Living, takes us along on her personal faith journey and outlines eight virtues that can also help each of us say yes to God's plan for our lives.
In their book, Something More Pastoral – the Mission of Bishop, Archbishop and Cardinal Donald Wuerl, Ann Rodgers and Mike Aquilina shine light on Cardinal Wuerl's life of ministry and service over the last 30 years. I've met Cardinal Wuerl a few times and have always admired him as a great leader and example of a dedicated leader in the Church.
I've always been intrigued by stories of life in the White House. So, Kate Andersen Bower's First Women – The Grace and Power of America's Modern First Ladies and The Residence: Inside the Private World of the White House are downloaded on my kindle. Both of them promise to provide a glimpse of life upstairs and downstairs at the world's most powerful address.
For me, anything by John Grisham is captivating. Theodore Boone: The Scandal and Partners are two recently published works that I've also got on my kindle. I took care of them here on the gulf coast!
I encourage you to make time in your schedule during these summer months to simply relax and enjoy all of the beauty that surrounds you. Slow down the hectic pace of your life. Take in ballgame or stop for an ice cream cone. Soak in a summer breeze with a walk along the parkway. Do a little leisure reading. Be sure to spend a little more time with God – maybe a few more visits to our Adoration Chapel.
Think about it now – what is it that helps you to slow down and relax? Name it – and then do your best to take the time and do it before these summer days are a memory of another one that has gone by.
To slow down my life a little during these summer months, I am blogging every three weeks – so my next blog will be on July 27th.
Question – Consider sharing with us how you are spending these summer months. What books are you planning to read? Are you going anywhere special? How are you simply slowing down the pace of your life?