Summer Is Winding Down!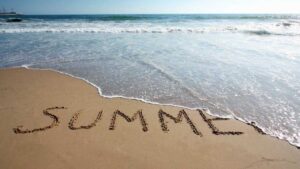 While fall does not "officially" begin until September 22nd, this past Labor Day weekend we pretty much said goodbye to summer.
Amid busier days at work and weather slowing shifting and teasing us alternately with exceptionally warm, or should I say hot and humid, days mingled with the very comfortable days and cool nights of this past weekend, we know that the summer of 2016 is winding down.
"'That end-of-summer sadness, our language has no word for,' wrote E. B. White, 'but our human spirit picks up the first of its approach.' We see it in the slant of the sunlight, the cool of the water. We hear it in the drone of the cricket chorus from the field: 'Six weeks till frost, six weeks till frost.'
Footballs fly through the air; the first colors of autumn appear; the bulbs that will bloom in the spring beg to be planted in the still soft earth.
But still . . . there is time for an evening ball game, for an afternoon at the lake, for a backyard barbecue.
Each last warm day becomes precious, something to be hoarded like candy in a child's pocket." (Adapted from Golden Days by Arthur Vanderbilt)
Each September, nature teaches us the preciousness of every summer day. A careful reading of the gospels has Jesus proclaiming the same reality. Every day of our lives is to be lived to its fullest as we await the eternal summer of God's dwelling place.
In the last three months of Ordinary Time – which continue until the Solemnity of Christ the King on November 20th, the Sunday Scriptures offer a rich array of texts for reflection and spiritual nourishment.
It is too simplistic to give a single thread that ties together all of the Sunday passages, but there is at least one broad focus that could be offered – how to live in faithfulness to God.
The Old Testament readings will come from several sources – the Wisdom literature of Sirach and Proverbs; and prophets like Amos, Malachi, and Habakkuk. These passages relate to the life of the covenant people, encouraging them to remain courageous and faithful to God.
Most of the New Testament readings are from Paul who provides pastoral advice for the early Christians. Seven of the twelve Sundays will include passages from Paul's letters to Timothy in which he offers instructions to the early Christian communities on how to live as disciples and servants of the Lord.
Luke is the master storyteller and the readings will include three great parables about the unbounded compassion of the Father – the lost sheep, the lost coin, and the prodigal son. The parables of stewardship remind us of our obligations to use wisely the gifts that the Lord bestows on us. The parable of the rich man and Lazarus underlines the very heart of discipleship.
Beloved by believers and nonbelievers around the world, Mother Teresa, the Church's newest Saint – Saint Teresa of Calcutta, has been named as one of "the most admired women in the world." While her appeal is broad-based, the reasons that she is so loved stem from her own radical, unwavering love and commitment to Jesus and the Gospel.
We can learn from her great example of love. Her love was inclusive. Although she was completely orthodox in her faith, she served the poor of all religions, equally and without discrimination. We need to ask, "Am I willing to treat all people with dignity and respect, even those who do not share my beliefs?"
She was willing to become personally involved with those in need. We need to ask, "Am I willing to 'get my hands dirty' by working at a food pantry, hunger center, hospice, or life center?"
She was an instrument of peace, and she radiated God's joy in all she said and did. We need to ask, "How can I find more joy in my life, and how can I share that joy with others?"
She was a messenger of hop and mercy for the entire world. We need to ask, "In what ways do I extend mercy to my family, friends, co-workers, and even strangers?"
This Sunday is the fifteenth anniversary of September 11, 2001 – commonly referred to as 9/11. Sometime on Sunday, take a few minutes to pause and remember in prayer those who died, as well as the thousands of people who responded to address the grief of loss and resolved to create a safer and more just world.
I think that it is safe to say that our history as a nation can be divided into two distinct eras – life before September 11, 2001, and life after September 11, 2001. After September 11 – we discovered how vulnerable we are. We encountered adversaries who so hate us and what our country stands for that they would destroy themselves in order to destroy us. We experienced for the first time since the Civil War, the horror and bloodshed of war on our own shores.
Yet, in the midst of all of the horror that this anniversary brings to mind – Christ was and is present. Some days we might just be too overwhelmed, too angry, or too scared to see Him. But Christ has been and continues to be in our midst.
Christ promises that whenever we gather in His name, He is in our midst. Sometimes it requires an extra sharp and focused vision of faith to realize and recognize His presence, but He is always there. Christ's presence should move us, inspire us, and transform us into a community of disciples and witnesses of his love, mercy and goodness. Christ lives and dies with us and in us. Christ dies in our hatreds and prejudices; He is entombed in our selfishness, rationalizations, and denials. But Christ lives in our generosity and compassion, in our sufferings and sorrows, in our attempts to live the gospel He taught us. That is the legacy of Saint Teresa of Calcutta – and it can be ours, if we like her are faithful.
As these summer days are winding down, be sure to consider participating in the various opportunities for adult faith formation at your parish. There are many opportunities available at Saint John Bosco – know that you are welcome to participate in any opportunity that will help you grow in holiness. Which, as you have heard me say many times before, – is friendship with Jesus Christ.
To slow down my life a little during these summer months, I am blogging every three weeks through September – so my next blog will be on September 28th.
Question – As the summer is winding down be sure to take a few minute to give thanks to God for the memory of those warm, sunny days. Are there any you would like to share?