Saint Joseph, Husband of Mary – Teacher of Jesus!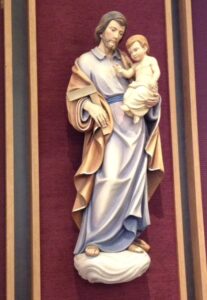 In his book, My Life With the Saints, Jesuit Father James Martin writes the following about Saint Joseph.
"In Joseph's workshop in Nazareth, Jesus would have learned about the raw materials of his craft – which wood was best suited for chairs and tables, which worked best for yokes and plows. An experienced Joseph would have taught his apprentice the right way to drive a nail with a hammer, to drill a clean and deep hole in a plank, and level a ledge or lintel."
"Undoubtedly, Joseph would have passed on to Jesus the values required to be a good carpenter. You need patience (for waiting until the wood is dry and ready), judgment (for ensuring that your plumb line is straight), honesty (for charging people a fair price), and persistence (for sanding until the table is smooth). Alongside his teacher, a young Jesus labored and built, contributing all the while to the common good of Nazareth and the surrounding towns. It is not difficult to imagine that the skills Jesus learned from his teacher – served him well in his later ministry . . . "
"As a father, Joseph would have been one of his son's primary teachers in his religious faith as well. Introducing him to the great men and women of the Scriptures, teaching him the Hebrew prayers, preparing him for his bar mitzvah, and encouraging him to listen to the rabbis and religious leaders of the town. And talking to him about God. Joseph was probably the first one Jesus went to with his questions. So Jesus' understanding of God his Father may have been shaped not only by Joseph's life but also Joseph's answers to his questions. Joseph's faith was one of the foundations of Jesus' faith."
Tomorrow the Church honors the faithful and humble Joseph, Jesus' foster-dad and Mary's husband. Though the Gospels tell us precious little about him, anyone who is a spouse and parent understands what Joseph must have meant to his wife and child. It is not hard to imagine that the boy Jesus learned a great deal from his "foster-dad" Joseph about compassion, about the strength of a family's love and courage.
Later, when the adult Jesus taught about placing more values of the heart about the technicalities of the law, when he revealed the love of God as father of us all and our belonging to one another as brothers and sisters, when he spoke of the blessedness of the poor and humble, when he preached about love so great as to give one's life for another, the memories of his "foster-dad" must have been close to his heart.
God our Father, as we celebrate the solemnity of Saint Joseph, may we be inspired by his compassion, his devotion to family, and his quiet dignity and integrity. In times of difficulty and tragedy, bless our families with your consolation and forgiveness. In times of growth and discovery, bless us with a spirit of gratitude, never forgetting that you are the Father of us all, the giver of all that is good.
Question – Surely Joseph passed on faith and family values to Jesus. How are you passing on faith and family values in your family – as well as your family of faith?