Rejoice and Be Glad!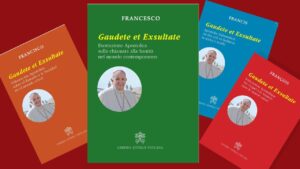 On Monday, Pope Francis published an Apostolic Exhortation, Guadete et Exsultate "Rejoice and Be Glad" – it is subtitled "The Call to Holiness in Today's World." Why rejoice and be glad – because God calls all of us to be saints!
An apostolic exhortation is one form of the ordinary teaching authority of the Pope. Through an exhortation, the Holy Father conveys a message to the faithful about a particular area relevant to living out the Catholic faith.
Gaudete et Exsultate is the third apostolic exhortation issued by Pope Francis during his five-year pontificate. In 2016 he issued Amoris Laetitia, on love in the family, and in 2013 he issued Evangelii Gaudium, on the proclamation of the Gospel in today's world.
In comparison to his previous exhortations, Gaudete et Exsultate is a fairly easy read. In fact, it is only 44 pages and written in simple language that is fairly easy for the average person in the pew to understand. As the subtitle clearly states, its theme is "the call to holiness in today's world." What Pope Francis does is to present a very plain, but essential message, indicating that the essence of the Christian life is – using the terminology of Saint Ignatius of Loyola – to "seek and find God in all things . . . to put God at the center."
Pope Francis is very clear in stating that this exhortation does not seek to be a "treatise on holiness, containing definitions and distinctions helpful for understanding this important subject, or a discussion of the various means of sanctification." The "modest goal," as Francis explains at the beginning of the exhortation "is to re-propose the call to holiness in a practical way for our own time, with all its risks, challenges and opportunities." He doesn't propose a single path to holiness or one vision of the saintly life. We aren't called to be cookie-cutter versions of the saints of old – but to be your full self. He challenges us to recognize that the call to holiness is deeply personal, but it is not individual. We are called together to be holy, and the holiness of one touches that of another. "We are never completely ourselves unless we belong to a people. That is why no one is saved alone, as an isolated individual." He concludes the exhortation by saying that he hopes that these "pages will prove helpful by enabling the whole Church to devote herself anew to promoting the desire for holiness. . . . and a fervent longing to be saints for God's greater glory."
Guadete et Exsultate has five chapters. The starting point is the universal "call to holiness" that was articulated by the Second Vatican Council's Dogmatic Constitution on the Church, Lumen Gentium, written in November of 1964. Pope Francis picks up on that call, reminding us that it is not only a call for bishops, priests and consecrated people, nor only for those who live a life dedicated exclusively to prayer. Real history, he writes, is made up of witnesses to Christ offered by the "humblest members" of the People of God – the Church. In a husband who loves his wife, a mother who patiently teaches her child, or an employee who works with integrity. Everyone can strive for holiness, simply by doing what it is that we are called to do and be in life.
From the call to holiness Pope Francis stresses that perfection isn't required to be holy and identifies "two subtle enemies of holiness" that can turn holiness into elitist, intellectual or voluntary forms. Gnosticism – that implies that what matters most is what you know and that there isn't any need to be charitable or do good works. Pelagianism – that claims that you don't need God's grace in order to be saved and that we can do it all on our own. These two enemies, he explains, can lead to a "self-centered and elitist complacency, bereft of true love," that is translated into a variety of ways of thinking and acting, which includes obsessing over laws, being absorbed with social and political advantages, being "punctilious" over the Church's "liturgy, doctrine and prestige" and an excessive concern with self-help programs.
In chapter three Pope Francis presents the Beatitudes, found in the Gospels of Matthew and Luke, as a "Christian's identity card." He challenges us to take the word "happy" or "blessed" and allow it to become a synonym for "holy." Each of these "Beatitude Principals," Francis writes, "is holiness." He then he explains that Jesus himself acknowledged that following him means "going against the flow – living and acting counter to the way things are usually done in our world.
Next the exhortation describes signs of holiness in today's world – patience and meekness, joy and a sense of humor, courage and fervor, community living, and constant prayer. In this section Pope Francis gives us practical advice for living a life of holiness – for example, don't gossiping, stop judging, and most of all – stop being mean.
In his concluding chapter Pope Francis reminds us that the "Christian life is a constant battle. We need strength and courage to withstand the temptations of the devil and to proclaim the Gospel."
This exhortation, signed by Pope Francis on March 19, 2018, the fifth anniversary of his election as Pope, appears to build on two themes that appear to be central to his papacy. A Christian must be one whose life is marked by joy and mercy. And that the ultimate criterion on which our lives will be judged is what we have done for others.
I encourage you to take the time to read and prayerfully reflect on Gaudete et Exsultate. After all, don't we all want to be holy? This exhortation will help all of us to respond more fully to that call.
Reflection question – How are you striving to grow in holiness given the circumstances of your life?