Pope Francis' Pastoral Visit to the United States – What a Week!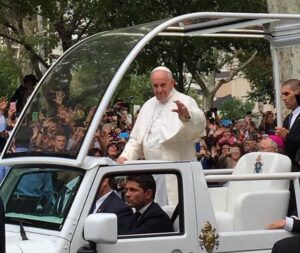 On Sunday evening Pope Francis bid farewell to the people of the United States telling us that he was returning to the Vatican with "a heart full of gratitude and hope" and asking that we "please, remember to pray for me."
What a wonderful week it was. It seems that everywhere we went people were talking about Pope Francis and the message that he was proclaiming with his words and his actions. People of all faiths seemed to be taking his message to heart. Hopefully, we too have hearts filled with gratitude and hope!
Pope Francis' Pastoral Visit took him to Washington, New York City and Philadelphia. Along the way he drew large crowds everywhere. He met with President Obama, clients of Catholic Charities, school children, prisoners, families of all kinds, and victims of sexual abuse by priests. He addressed Congress, the United Nations, the Bishops of the United States and those gathered for the World Meeting of Families. He visited Ground Zero, Madison Square Garden, Independence Hall, and Central Park, as well as Cathedrals, Basilicas, The Little Sisters of the Poor, and a Catholic school. He prayed with brother bishops, seminarians, consecrated religious and the leaders of the world's religions. He celebrated Mass with the Christian Faithful in all three cities and the first canonization on American soil – that of St. Junipero Serra. He affirmed the work and ministry of the Women Religious of our nation, the dignity of the human person, the necessity of religious freedom, our responsibility to welcome and care for the immigrant, our obligation to care for the world that God has given to us, and the respect that we must have for the family and family life as true domestic churches.
You can visit the website of the United States Conference of Catholic Bishops for the texts of Pope Francis' talks and homilies throughout his pastoral visit. Here is a short video, prepared by the USCCB, of highlights of the week that we won't long forget.
As John Allen, Associate Editor of Crux, wrote, "The Pope wowed crowds everywhere he went . . . managed to avoid stirring significant political controversy despite delivering several speeches and gestures rich with political content . . . received overwhelmingly positive media coverage . . . reminded us that we must always dialogue fearlessly . . . and urged young people to dream because it is beautiful to have dreams and to be able to fight for them . . . 'wherever there are dreams, there is joy, and Jesus is always present' . . . he spoke with the words and actions of a pastor.
It certainly will take some time to assess the lasting impact of his visit. But one thing is sure, he seems to have people thinking and talking. Hopefully has us praying and dialoguing – as well as working at changing our hearts.
Father James Martin, SJ, editor of America Magazine, speaks of three "Spiritual Takeaways" from Pope Francis' visit.  In this short video he offers some wonderful suggestions on how to reflect on, and process, what happened to you during the visit.
This Sunday, October 4th, more than 360 participants, including 18 married couples from around the world, will gather for opening Mass of the Synod of Bishops – which will focus on "The Vocation and Mission of the Family in the Church and the Contemporary World." The Synod will continue through October 25th. It will draw up pastoral guidelines responding to previous discussions looking at the challenges facing today's families. Pray for Pope Francis and those gathered for the Synod, that the Holy Spirit will enlighten their minds and their discussions.
Question – What three words would you use to describe the visit of Pope Francis to the United States? Is there a memory of his trip that stands out that you would like to share?
*This week's picture is courtesy  of Lainey Sage, a parishioner of Saint John Bosco who is a Junior at Saint Joseph Academy in Cleveland. Lainey, who was in Philadelphia last weekend, took the picture and shared it with me.