Pope Francis' Pastoral Visit to the United States – The Wait is Over!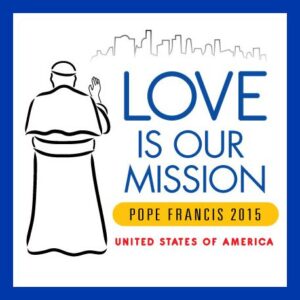 This past Sunday, the CBS program 60 Minutes began a segment on Pope Francis with these words, "As a young man, Jorge Bergoglio was a bouncer at a nightclub, ejecting undesirables. Sixty years later he's still minding the door, but now, as Pope Francis, he has thrown the Catholic Church open to all, especially the dispossessed, the disbelieving, the wayward and the wicked. . . . He's declared a 'Year of Mercy.' What can we expect when the pope comes to visit the United States?"
That segment suggested that if we look at his General Audience, held every Wednesday in Rome, we are given a glimpse. We will experience . . . A pastor who is intelligent, moves from the heart, and tries to be with people who are in need and suffering and going through turmoil in their lives. A man of prayer and reflection – who firmly believes that his life and ministry is guided by the Holy Spirit. A man who is not tied to protocol. A Pope who is very disciplined, yet full of surprises. A man who personally embraces his invitation to care for all people and for the world that has been entrusted to us by God – in whose image and likeness we are created.
After spending the last four days in Cuba, Pope Francis arrives in Washington, D.C. today at 4:00 pm. He comes as a messenger of mercy and hope for all. His pastoral visit will certainly be a whirlwind affair with many events and activities.
The Pope's Schedule in the U.S.
Tomorrow, Wednesday, September 23rd, is the Welcome Ceremony and meeting with President Obama at the White House, followed by a Papal Parade that will take him to Saint Matthew's Cathedral where he will pray and meet with the bishops of the United States. After that meeting he will go to the Basilica of the National Shrine of the Immaculate Conception for the Canonization of Junipero Serra – which will be the first canonization that has ever taken place in the United States.
Thursday, September 24th, is his Address to a Joint Meeting of the United States Congress, followed by a visit to St. Patrick in the City and Catholic Charities of the Archdiocese of Washington. At 4:00 pm he will fly to New York City. Once in New York City, he will go to Saint Patrick's Cathedral for the celebration of Evening Prayer.
Friday, September 25th, is his Address to the United Nations, followed by a Multi-Religious Service at the 9/11 Memorial and Museum, a visit to Our Lady Queen of Angels School in East Harlem, a procession through Central Park and Mass at Madison Square Garden.
Saturday, September 26th, he flies to Philadelphia for the World Meeting of Families. Once in Philadelphia he will celebrate Mass at the Cathedral Basilica of Sts. Peter and Paul, visit Independence Mall, and then visit the Festival of Families.
Sunday, September 27th, he will again meet with the Bishops of the United States, visit a Correctional Facility, celebrate Mass for the conclusion of the World Meeting of Families, and then visit with the organizers, volunteers and benefactors of the World Meeting of Families before departing for Rome at 8:00 pm.
What Can We Learn About and From Pope Francis During this Visit?
There are three things I encourage you to focus on as we encounter Pope Francis, taken from a Perspective written by Thomas Reese in a recent issue of the National Catholic Reporter, between now and Sunday.
First, Francis the man. "This will be the United States first opportunity to see Pope Francis up-close and personal. What we will notice is that his visit is not at all about himself. It is about the Gospel message of God's love and compassion and our responsibility to respond to that love by loving our brothers and sisters, especially the poor. He will preach and teach with his words, as well as by his actions." So, watch him closely – especially his interactions with the sick, the poor and the marginalized.
Second, Francis the prophet. "A prophet is someone who comforts the afflicted and afflicts the comfortable. He speaks with power. . . . Everyone is looking forward to what the Pope will say to a Joint Session of Congress." Given what he has said to government officials on his Pastoral Visits to other nations, we can certainly anticipate that he will urge care for the poor, welcome for the immigrant, work for peace, protect the environment, and cherish all of life.
Third, Francis the pastor. "The Pope is coming not just to talk to government officials and the United Nations. He is also coming to inspire the Catholic faithful and their bishops. He comes to preach, to pray and to celebrate Eucharist with them." He will be calling all of us to reflect the "Face of God's Mercy" – which is Jesus Christ.
You can follow the Pastoral Visit of Pope Francis on EWTN, as well as most major television stations. Many of his public appearances and celebrations will be live-streamed at the website for the United States Conference of Catholic Bishops.   Hopefully, we all will spend some time with him while he is in the United States.
If you have a mobile device, you can download the new (and free) mobile app from the USCCB called USA Catholic Church.  You can use it to access the live streaming and follow news of the Pope's travels while here. Learn more here.
Finally, Pope Francis asks people regularly, "please pray for me." This week, I ask you to be intentional in praying for him while he is with us in United States. Pray for his safety. Pray that the Holy Spirit will be his guide – and that people of good will may open their hearts not only to him, but to the message he brings. After all, his words will challenge, encourage, and probably infuriate many people. But they will be words that all of us need to hear and allow to challenge our response to the universal call to holiness.
Question – What would you tell Pope Francis if you could sit down with him for a couple of minutes while he is in the United States?