Ongoing Formation & The Extraordinary Synod On The Family Continues.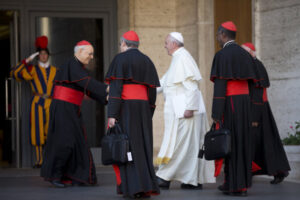 Last week I was with the priests of our diocese at our convocation at Sawmill Creek. Over three days, with the assistance of two presenters – Father Gregory Heille, OP and Father James Wallace, C.Ss.R – we focused on preaching, which is the core of our priestly life and ministry. It was good to spend time with brother priests in prayer, study, and fellowship. This three day convocation takes place every two years – and is an important element of our ongoing formation as priests.
This week I am in Saint Louis for the annual convention of the Canon Law Society of America (CLSA). The Society is a professional organization dedicated to the promotion of the study and application of Canon Law (Church Law) in the Catholic Church. Its membership includes twelve hundred men and women who reside in thirty-five countries. I had the privilege of serving as President of the CLSA in 2010 – and representing the Society at gatherings in Canada, Northern Ireland and Rome, as well as throughout the United States.
The theme of this year's CLSA convention is "The Unity of the Church: Challenges and Prospects." I do my best to attend this convention every year. It is a wonderful opportunity for reflection on current topics that impact Church life and interaction with professional colleagues.
Being in Saint Louis this week has opened my eyes to the need to pray in a very particular way for those who have been touched by the turmoil and tragedy in Ferguson and Saint Louis. Archbishop Robert Carlson, of the Archdiocese of Saint Louis, reminded the people of this local church, "Pope Francis has encouraged us again and again to ask Our Lady, the Undoer of Knots, to intercede for us in difficult circumstances. . . . join me in praying to Our Blessed Mother and to her son, Our Lord Jesus Christ, for peace and justice in our community." I encourage you to say a prayer for the people of this area, that they may be instruments of peace amid the chaos that surrounds them.
Like many of you, I continue to follow the extraordinary Synod on the Family taking place in Rome. It will conclude this Sunday, October 19th. America Magazine, Catholic News Service, Vatican Radio, and the United States Conference of Catholic Bishops are all excellent resources for what is happening during these historic days.
It is important that we continue to pray for all those taking part in the synod. Here is the prayer to the Holy Family that Pope Francis has composed for the synod . . .
Jesus, Mary and Joseph,
in you we contemplate the splendor of true love,
to you we turn with trust.
Holy Family of Nazareth,
grant that our families too
may be places of communion and prayer,
authentic schools of the Gospel and small domestic Churches.
Holy Family of Nazareth,
may families never again experience violence, rejection and division:
may all who have been hurt or scandalized
find ready comfort and healing.
Holy Family of Nazareth,
may the approaching Synod of Bishops
make us one more mindful of the sacredness and inviolability of the family,
and its beauty in God's plan.
Jesus, Mary and Joseph, graciously hear our prayer! Amen.
Question – What do you find yourself doing to continue your ongoing faith formation?