On Thanksgiving It Has to be an Attitude of Gratitude!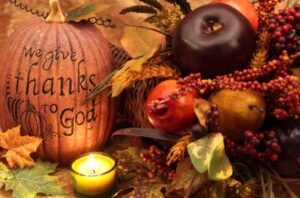 Thanksgiving! The very word brings back mouth-watering memories. Many are from childhood – others are from last year at the home of my nephew and his wife. At their home the dinner table was huge. Joe and Kathleen wanted everyone to be seated in the same room. So they transformed their living room into a dining room. Forty of us in one room – twins who were only two, a great grandma who was 93 and all of the ages between. The meal was unbelievable – a joint effort on the part of my nieces and nephews who insisted that they were doing the cooking! Delicious turkey, baked and deep fried thanks to my nephews, surrounded by heaping bowls of stuffing, homemade cranberry relish, mashed and candied sweet potatoes, along with favorites from all of their families. The only thing better than the meal was the joy of being there with everyone!
It is tempting to believe that gratitude is instinctive, but experience proves that just is not true. I am fairly sure all of us remember the formation of the attitude of gratitude that is now part of our life. It took place when we were children. You received a cookie from grandma, a gift on our birthday, or a compliment from a total stranger. Once received, there was that pregnant pause before mom or dad broke the silence with the question heard many times before, "What do you say?" Over time we internalized this training, and thanks became spontaneous.
I believe it is fitting that Thanksgiving is not a mandatory feast in any faith tradition, for gratitude is best served by voluntary expressions. As we anticipate Thanksgiving here are a few suggestions for you to consider integrating into your attitude of gratitude into the day.
Count your blessings. The Thanksgiving newspaper will be stuffed with Black Friday ads. Instead of starting your "wish list" or shopping list, make a "thanks list" and take it to the Lord in prayer sometime before the day ends. Don't allow the creep of Black Friday to gobble up Thanksgiving. Stay away from the malls and the stores on Thanksgiving – even in the "late" evening. Remember, in order for any of them to be open someone must be away from their family on Thanksgiving. Silence your cell phone. Take out the ear buds. Allow yourself to really hear the people who are with you.
Celebrate Mass with your parish family. Most parishes have a morning Mass on Thanksgiving. At Saint John Bosco Mass will be celebrated at 9:00 am on Thanksgiving morning – and I invite you to join us. The Eucharist is a grace-filled way to begin the day focused on God's blessings in praise and thanks.
On Thanksgiving many of our homes will be filled with the smells of turkeys and pies, and the sounds of laughter and football. But let us also be mindful of those who will spend the day without the comfort of food, family or faith – those who will spend the day alone.  May God bless you and your loved ones this Thanksgiving.
Question – What will your attitude of gratitude include on Thanksgiving Day?