ON THANKSGIVING DAY, IT IS ALL ABOUT AN ATTITUDE OF GRATITUDE!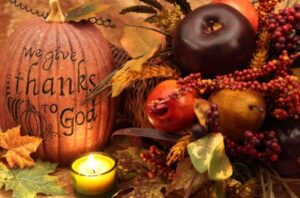 It's hard to believe, but a week from tomorrow is Thanksgiving Day! As you've heard me say many times, the very word brings back mouth-watering memories of my childhood. The dinner table, whether you were seated with the kids in the basement, the teenagers in the back of the kitchen or in the den, or with the adults in the dining room was a masterpiece of mom's cooking. Added to it were specialties my aunts brought for the feast. I remember the delicious turkey surrounded by heaping bowls of stuffing, homemade cranberry relish, mashed and candied sweet potatoes and other favorites. Our home was the place where family who lived in the area would gather for the day.
For me, the only thing better than the meal was the excitement of having so many relatives over to enjoy it with us. On that day there seemed to be laughter and chatter everywhere – football games on the television and radio, and the occasional raised voices. As well as my dad and my uncles going over the final details of their annual hunting trip to Pennsylvania that would always begin that Saturday morning.
I'm sure you have your own memories of Thanksgivings past. Treasure them and share them with your children this week.
My nephew and his wife have now taken on the family Thanksgiving tradition – passed down from my sister Denise, his mom, who took it on for a number of years as my mom's health declined. Their home is a lot larger than the one he grew up in. And there will be a lot more tables set than we ever had for Thanksgiving – they will fill multiple rooms in their home. The "family" is now much more extended. Everyone will bring their favorite dish. There will be a couple of turkeys in the oven and a couple more in fryers on the patio. Yes, it certainly will be noisy with at least 7 children under the age of 9 – not to mention all of the men who will be gathered outside on the patio taking care of the fryers, watching the game, smoking a cigar, and drinking their favorite beverage! After all, it's a celebration of family and friends; and we can count on the children to remind us that we have to "say thanks in prayer before you can eat." Their prayers, recited and sung, are always inspiring. Again this year two of the grandmas won't able to travel to be with us because of age and heath related issues – so, we will visit them on the way there and bring a "take-home" dinner to them from the table on the way home. I'm most grateful for the friend who will be spending time with one of those grandmas later in the day!
It is tempting to believe that gratitude is instinctive, but experience proves that just is not true. I am pretty certain that all of us remember the formation of the attitude of gratitude that is now part of our life. It took place when we were children. Don't we all remember receiving a cookie at grandma's, a gift on a birthday, or a compliment from a total stranger? Once received, there was that pregnant pause before mom or dad broke the silence with the question we heard many times before, "What do you say?" Over time we internalized this training, and thanks became spontaneous. I've observed parents engaging in that ritual of gratitude in many different venues.
For Christians, every Sunday is really Thanksgiving Day. The term Eucharist comes from the Greek word "eucharistein" which means "thanksgiving." We are called to give thanks when we come to celebrate Mass, as the Second Vatican Council taught in the Constitution on the Sacred Liturgy (number 48), by the sacrifice of the immaculate victim once again, but also by offering our very selves to God in a sacrifice of praise and thanksgiving.
I think it is fitting that Thanksgiving Day is not a mandatory feast in any faith tradition, for gratitude is best served by voluntary expressions. As we anticipate Thanksgiving here are a few suggestions for you to consider integrating into your attitude of gratitude for the day.
Take time in anticipation of Thanksgiving to count your blessings. The Thanksgiving newspaper will come stuffed with Black Friday ads. The Plain Dealer has already warned us that "It will be our biggest newspaper of the year, bursting with money-saving coupons and advertising circulars" – and it will cost subscribers an additional $4.00 in order to receive it! Instead of starting your "wish list" or shopping list, put the newspaper aside and make a "thanks list" – and take it to the Lord in prayer sometime before Thanksgiving Day comes to an end. Consider saying a prayer for someone you know who will be experiencing their first Thanksgiving after the death of a loved one – or for those in California who have lost everything in the fires that are burning there.
Don't allow the creep of Black Friday to gobble up Thanksgiving Day. Stay away from the malls and the stores that will be open. Remember, in order for any of them to be open someone must be away from their family on Thanksgiving. Give a phone call to someone you love who won't be with you on Thanksgiving to let them know that you are thinking about them. Then, silence your cell phone and take out the ear buds, and resist that urge to immediately respond to the text messages you receive. Allow yourself to really hear and be with the people who are with you for the day – and take the time to engage in a real conversation with them.
On Thanksgiving Day, please, do your best to try to celebrate Mass with your parish family. Most parishes have a morning Mass on Thanksgiving. At Saint John Bosco Mass will be celebrated at 9:00 am on Thanksgiving morning – and you are most welcome to join us. The Eucharist in a grace-filled way to begin the day focused on God's blessings in praise and thanks.
On Thanksgiving Day many of our homes will be filled with the smells of turkeys and pies, and the sounds of laughter and football. But let us also be mindful of those who will spend the day without the comfort of food, family, friends or faith. They are all around us, and many of them won't even let us know that they are going to be alone for the day. Say a prayer for them – or better yet, consider inviting them to your table if that is a possibility. It's all part of the attitude of gratitude!
May God bless you and your loved ones this Thanksgiving.
Share your thoughts with us – What will your attitude of gratitude include on Thanksgiving Day?
My next blog will be on December 5.