No hands but yours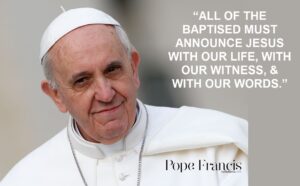 St. Teresa of Avila, who founded the Discalced Carmelites in her native Spain, taught her sisters . . . Christ has no body now on earth, but yours; no hands, but yours; no feet, but yours. It is your eyes through which Christ's compassion looks out to the world; your feet with which he must walk about doing good; your hands with which he blessed humanity; your voice with which his forgiveness is spoken; your heart with which he now loves."
During a World War II bombing raid, a French village lost a beloved statue of Christ. The villagers painstakingly sifted through the rubble and managed to rebuild the statue, except for its hands. They searched and searched, but the pieces were never found. Finally, the villagers placed a plaque on the statue with the inscription, I have no hands but yours.
Two very different settings. One a teaching by a Doctor of the Church to her sisters. The other a proclamation by villagers to those who look at a beloved statue of Christ that lost its arms in war. Yet, both summarize one of the challenges of the Lenten season.
In John's gospel, which the Church presents to us in these finals days of our Lenten journey, Jesus is clearly referring to himself in the same breath as God. He knew who he was – consecrated by God to perform the "many good works I have shown you from the Father." Obviously, the Jewish authorities have a fit with this teaching and challenge and confront him. But he refuses to back down. He knew who was.
In fact, down through the centuries it has been a struggle for Christians to keep a balance in their understanding of Jesus. Early Church councils struggled with understanding Jesus' humanity and divinity, finally insisting that we need to take both with equal seriousness, and we need to not sacrifice one for the sake of the other. The historical Jesus was fully human and fully divine, the risen Lord present in our midst is fully human and fully divine. Thus, we can learn a great deal about God by looking and listening to Jesus, and we can learn a lot about what it means to be truly human by looking and listening to Jesus.
In every kindness we offer, in every word of encouragement and comfort we utter, in every moment we give to listen to another, we do the God-like "work" that the Father entrusted to Jesus and Jesus entrusted now to us. In whatever ways we can, in whatever opportunities come our way, we are called by Christ to be "signs" of the compassion and mercy of God in our midst. We are called to do the "work" of bringing the peace and hope of Jesus into the lives of others and into the life we share as families and communities, as the Church, the human family. The question is, "how well are we doing this each day?"
This Sunday is Palm Sunday. If you live around Saint John Bosco, please know that you are welcome to join us for our 4:00 pm Mass on Saturday evening or the 8:30 am or 11:00 am Masses on Sunday morning.