Much More Than a Band of Gold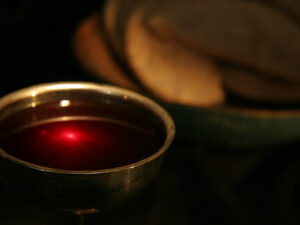 Many people wear a wedding ring on the fourth finger of their left hand.
A number of them appear to be a simple band of gold, costing on average, no more than a few hundred dollars.
But the wearer knows better.
The rings a husband and wife exchange are priceless. They are the invaluable sign of the love that each has pledged to the other, a love that sustains them through every joy and calamity. These rings are the surety that, whatever happens, there is someone who cares for them, who supports them, who loves them – and always will. When a wedding ring is lost, more than a band of gold is missing – a piece of themselves has been lost.  Ask anyone who has lost a wedding ring!
A wedding ring is the seal of the covenant between two people – a uniting of hearts, a joining of lives.
Just as spouses will tell you that their wedding rings are much more than pieces of jewelry, the bread and wine of the Eucharist is much more than a meal. The Eucharist that we celebrate is the essence of God's covenant with us. In Christ, God reveals his unlimited and unconditional love for us. In the Eucharist, that loving presence and promise is revealed again and again.
This is much more than a symbolic act. To celebrate the Eucharist is to enter, heart and soul, into the covenant of God whose compassion and forgiveness is more than we can fully comprehend. In this sacrament, in the bread and wine we take, bless, break and share, God is uniquely present in our midst – just as he promised.
This week Chris Kall, our Director of Religious Education, and I met with the parents of the second graders of our parish who are beginning the formal preparation of their children to receive First Holy Communion in May. This formal preparation is taking place in parishes everywhere.
At that meeting, I reminded the parents that they will be teaching their children what a treasure the Eucharist is by their example when they join the parish community for the celebration of Mass on Sunday. That weekly witness is just as important as moving through the study materials that we gave them to use with their children over the next four months. When children see how important Eucharist is in the lives of their parents, they will come to a deeper realization of how necessary it is for them, in the words of Saint Augustine, "to worthily become what we have worthily receive" – the Body of Christ.
Pray for these families as they anticipate the day they will bring their child to the "Table of the Lord" for the first time. Pray too that our participation at Mass helps them see the importance of the Eucharist in our lives!
This is a good week to reflect on the following question, "What are you going to do to support the children and families in our midst as they prepare for the reception of First Holy Communion?"