Meet Father Larry Jurcak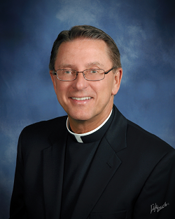 Let me introduce myself. I was ordained for the Diocese of Cleveland in June, 1981, and since then have served in various diocesan assignments – two parishes, the Diocesan Marriage Tribunal, the Director of Clergy Personnel, and the Secretary and Vicar for Clergy and Religious.
In addition to my diocesan assignments, I had the privilege of spending two years in graduate studies at St. Paul University in Ottawa Canada, graduating with a licentiate degree in Canon Law in 1991. I have served on the Board of Governors for the Canon Law Society of America and had the honor of serving as the President of that Society in 2010.
In 2010, I became Pastor of St. John Bosco Parish in Parma Heights Ohio, a parish of 1,800 households. While I enjoyed all of my previous assignments, it's great to be back full-time in parish ministry. It's the meeting place of everyday Catholic life.
Through this blog, I hope to engage with you about the many blessings we share in parish life. Your comments and ideas are always welcome!