Mary, Mother and Sister – Woman of Faith!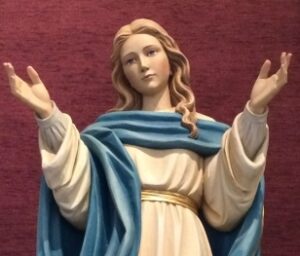 Her statues have always radiated sweetness. She is always young and pink-cheeked and slender, with beautiful locks casting down to her waist.
But the Mary presented to us in the Gospels is neither a fairy-tale princess nor that romanticized "lovely lady dressed in blue teaching us how to pray." The flesh and blood Mary, whom the Church remembers in a special manner during the month of May, was an altogether real, human woman.
She is . . . The pregnant adolescent who was painfully misunderstood by her parents and the man she loved. The mother who having just given birth was forced to leave her homeland for the safety of a newborn child. The frantic parent searching for her lost child in the big city. The caring woman who was not afraid to speak her mind and voice her questions. The anguished mother who stood by stoically as her innocent son was executed.
The writing of an anonymous Trappist Monk of Saint Joseph Abbey in Spencer, Massachusetts reminds us that "Mary allowed her life to be wildly interrupted by God's desire. Her wholehearted 'yes' gave God a home, a body in which to dwell. Mary gave God her flesh. Because of her, he has hands that will heal and bless and be nailed to the wood of the cross. Because of her, he has a heart to love with."
The woman we venerate in mysterious icons was a woman with her feet planted firmly on earth. Mary knew the pain that only a mother could feel; she knew the joy that only a humble, selfless and giving woman of faith could experience. Her life is a model of faith-filled living for all of us and all believers.
Sister Katherine Feely, SND, in a reflection she wrote during the Year of Faith, points out that Mary offers three essential pathways for living our faith. I think that they are appropriate for us to ponder in this month devoted to her.
Mary shows us how to listen. "Mary was a young girl living in a culture where she could have been stoned to death for having a child out-of-wedlock. She knew the cultural and societal consequences of her 'yes.'" Yet, she trusted in God's presence as she lived out that "yes." As Sister Katherine explains, "Mary shows us what it means to listen with full intensity to what God is asking. God's invitations may very well demand everything of us. Deep pondering, heart-centered attentiveness, and courageous listening are required of us, too."
Mary shows us how God's word must be shared with others. What does Mary do immediately after her "yes" to God's invitation? She goes off to visit her cousin Elizabeth. "When Mary visited Elizabeth, they did not exchange a simple greeting, but one of deep faith. God's word is meant to be shared. It cannot be contained within us if we are to filled with the life it offers. We must share it with others."
Mary shows us how to live in God's word. "Mary lived moments of profound joy as well as profound sorrow. . . . Mary formed and raised Jesus from the simplicity of her daily life. She was a person in conversation with God, with the Word of God, and also with the events through which God spoke to her. From the Annunciation to Pentecost, Mary appears as someone whose freedom is completely open to God's will and show us how to live in God's word."
Gerard Manley Hopkins, in his poem "The May Magnificat," explores in literary form why the month of May is traditionally seen as "Mary's month." The poem shows us what marvelous beauty is achieved each year by the obedience of the created elements; its conclusion shows us how much greater was the result of the obedience of Mary, and why the glorious fertility of Spring should be associated with the incomparable riches brought into the world by her "yes" – the fruit of her womb, Jesus. As you read his poem you will find that the three pathways pointed out by Sister Katherine are beneath Hopkins' words.
May is Mary's month, and I
Muse at that and wonder why:
Her feasts follow reason,
Dated due to season—
Candlemas, Lady Day;
But the Lady Month, May,
Why fasten that upon her,
With a feasting in her honour?
Is it only its being brighter
Than the most are must delight her?
Is it opportunest
And flowers finds soonest?
Ask of her, the mighty mother:
Her reply puts this other
Question: What is Spring?—
Growth in every thing—
Flesh and fleece, fur and feather,
Grass and greenworld all together;
Star-eyed strawberry-breasted
Throstle above her nested
Cluster of bugle blue eggs thin
Forms and warms the life within;
And bird and blossom swell
In sod or sheath or shell.
All things rising, all things sizing
Mary sees, sympathising
With that world of good,
Nature's motherhood.
Their magnifying of each its kind
With delight calls to mind
How she did in her stored
Magnify the Lord.
Well but there was more than this:
Spring's universal bliss
Much, had much to say
To offering Mary May.
When drop-of-blood-and-foam-dapple
Bloom lights the orchard-apple
And thicket and thorp are merry
With silver-surfed cherry
And azuring-over greybell makes
Wood banks and brakes wash wet like lakes
And magic cuckoocall
Caps, clears, and clinches all—
This ecstasy all through mothering earth
Tells Mary her mirth till Christ's birth
To remember and exultation
In God who was her salvation.
May is Mary's month. It is a special time of prayer to the Blessed Virgin Mary, asking her to show us the way to her Son. It is also Eastertime, so we join Mary in rejoicing in Christ's Resurrection from the dead. We can honor Mary in this month by praying the Rosary or another Marian devotion and by participating in Mass on the Feast of the Visitation, which concludes the month on May 31st.
The anonymous Trappist monk I spoke of early continues his essay on Mary pointing out . . . "If as Pope Francis reminds us over and over again, we must go to the fringes to be with the poor and forgotten, it is because that is where God is. That is where God goes to find Mary, among the poorest and most powerless. And each of us must go down there to the fringes, to the frontiers of our own poverty and emptiness. For our poverty and emptiness make God happy, not because he wants us sad but because they allow God to fill us with himself, which is all he really wants to do. Down in the dark recesses of our hearts, we can discover like Mary a great empty space where God's mercy can grow and swell in us, a space that he can fill with his own gracious presence."
The Trappist monk concludes by reminding us of the ultimate reason that we honor this woman of great faith. "God in Christ desires to surrender himself to us. It is the secret we were born for. And our unending work is to let ourselves be defenseless, utterly defenseless, like Mary, utterly nonresistant to God's desire for us."
Question – What Marian devotion will you incorporate into your time of prayer during this month which is traditionally dedicated to the Blessed Virgin Mary?