Lent – A Season to Pause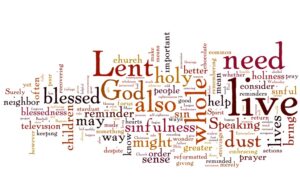 The great pianist Arthur Rubinstein was once asked, "How do you handle the notes as well as you do?"
The maestro replied, "I handle notes no better than many others, but the pauses between the notes – ah! That is where the art resides."
Often, we rush through our days hitting all the "notes" of the conflicting and overlapping symphonies we are required to play. Spouse, parent, child, professional, wage-earner, student, neighbor, teammate, friend, relative, citizen, child of God, church-member. But, the "notes" of our lives start to become a constant blaring. We take little or no time between the notes to hear the music of life. The beauty of the rising sun. The love of God. The joy of family. The peace of trusted friendships. The happiness that surrounds us.
Yes, Lent is certainly a time for us to be about prayer, fasting, and acts of charity. But, I believe that Lent is also a season for "pausing" in our days. For discerning the "song" of God in our own lives. For basking in the "music" of the world around us. For replaying the wrong "notes" we have played that bring disorder, sadness and pain into our lives and the lives of others. That's right, replaying them – not to dwell on them, but to see how to avoid repeating them. And, trying to recapture the melody of God's hope, love and joy that are the true "rhythms" of lives that are whole and fulfilling. That is really what God wants for each of us.
I would encourage you to look for ways to "pause" during these Lenten days and spend some time in quiet. That pause can help you get in touch with the rhythm of life God intends for you. Yet, most of us have to be honest and admit that in order for this to happen we have to be intentional about desiring it. The pause isn't going to happen unless we make time for it.
"Lord God, may this season of Lent be a time for pausing between the many and stressful "notes" we are required to play in our lives. Open our hearts and spirits to "hear" the music of your love and graciousness and bring that music into every moment and season of our lives."
A couple of reminders . . .
All of the Fridays of Lent are days of abstinence from meat (and any meat based food). The law of abstinence binds all Catholics 14 years and older.
At Saint John Bosco, daily Mass during Lent is celebrated in the morning on Monday and Wednesday at 7:30 am; on Tuesday and Friday at 12:00 noon; and in the evening on Thursday at 7:00 pm. I invite you to join us at daily Mass during Lent.
At Saint John Bosco, we pray the Stations of the Cross on Friday evening at 7:00 pm during Lent. You are welcome to join us for this Lenten devotion.
Finally, remember that next Wednesday, March 15th, is the annual diocesan-wide "Evening of Confessions." Saint John Bosco, and all of the other churches in our diocese, will have confessors available from 5:00 pm to 8:00 pm for individual confessions.