Journeying Through These Advent Days.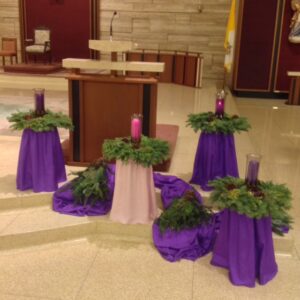 Daylight grows shorter. The dark of night grows longer. In the dark and the cold of night, and often with some snow on the ground, lights begin to shine. They weren't there before. We see them on trees and in windows. It is as if people are afraid of the dark and all that it brings.
A spirit of expectation begins to pick up momentum. Shopping trips, gift wrapping, parties, a different kind of music and song are in the air, and beautiful decorations of every kind. It is obvious that something wonderful is about to happen.
The purple inside our churches clashes with red, green and sparkling silver and gold everywhere else. Not to mention that the music in our churches is so much different from the songs we hear on the radio. Young and old are preparing to celebrate Christmas by taking part in a variety of traditions, some only slightly associated with preparation for the mystery of the Savior's birth.
In the midst of all of this the Church commands us to watch and be alert! The verb "watch" is never passive. It always involves alertness, discernment, judgment, quickness, action. We watch not simply with our eyes, but with our hearts.
Yes, someone "is coming to town." Prepare the way of the Lord!
Advent is a time of expectation; we prepare our home and our hearts to celebrate the birth of Jesus on Christmas Day. It is a season of hope, a time to nurture peace and experience joy in anticipation of the love that is made incarnate in the birth of Christ.
We celebrate Advent not only by thanking God for Christ's first coming as a baby in Bethlehem, but also by being alert to His presence among us today through the Holy Spirit, and in anticipation of His final coming at the end of time.
In the midst of all that is happening around us, Advent struggles for our attention. I'm going to offer you some suggestions that I believe can help you journey through these days of Advent waiting. Prayerfully read them over and add them to your list of Advent customs. Once you have done that, I encourage you to intentionally pick one activity that speaks to your heart and can realistically be done every day. Then, do your best to integrate it into your daily routine as you journey through these Advent days.
Here are my suggestions for your consideration. Participate in daily Mass at your parish. Reflect on the daily scripture readings, which can be found at www.usccb.org. Pick up an Advent calendar, at Saint John Bosco they are located at the magazine rack in the Church vestibule, and follow the suggestion for each day. Go to the interactive Family Advent calendar at the website for the United States Conference of Catholic Bishops, it offers daily reflections and activities. Sign up to receive Father Robert Baron's daily Advent reflection. Participate in some Advent or holiday giving program. Make a Holy Hour at your parish in the presence of the Blessed Sacrament. Take the time to go to Confession. Pray a little more each day.
Question – What are you intentionally doing for Advent this year?