It's Time To Get Ready For Lent 2016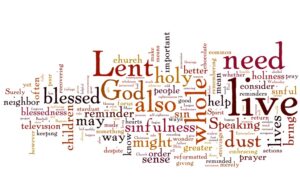 One week from today is Ash Wednesday. With the marking of our foreheads with ashes we will begin the Season of Lent. I urge you to make plans to attend Mass next Wednesday – and invite a friend or neighbor to join you. This weekend remember to pick up a bulletin at your parish, check the Mass times on Ash Wednesday, and select the Mass that you will attend.
At Saint John Bosco Mass will be celebrated on Ash Wednesday in the morning at 7:30 am, at 12:00 noon, and in the evening at 7:00 pm. If you are in the area you are most welcome to join us.
The 40 days of Lent are traditionally grounded in the Ash Wednesday imperatives that we are to pray, fast and give alms. In order to focus on those spiritual practices we need to lay down our "toys" – computers, iPhones, iPads, and the TV remote for a while. It is a time to reflect on our relationship with God and to do our best to deepen it. To do this will be a challenge because it means setting aside designated time for prayer, emptying ourselves of those things that push the Lord aside so that we can welcome Him back to the center of our lives, and parting with some of our money to share with those in need.
Baron Friedrich von Hugel, an influential spiritual writer and director, had a practice of spending fifteen minutes a day doing what he called "devotional reading." We would do well during the days of Lent to nourish our souls by this type of "devotional reading." This type of reading, traditionally referred to as "spiritual reading," leads to intimacy with the Lord and growth in taking on the concerns of God. If you aren't already engaged in this practice – Lent would be a great time to begin!
Those who attend Mass on Ash Wednesday at Saint John Bosco will receive a copy of Matthew Kelly's Rediscover Jesus (1 copy per household). It has forty short chapters – normally no more than four pages. One for each day of Lent – with a point to ponder, a verse to live, a question to consider, and a prayer for the day. Each chapter promises to help you "rediscover the beautiful possibilities God placed before us each day." I promise that for those who receive a copy, it will be good "devotional" or "spiritual" reading!
The tradition of fasting, from some type of food, beverage, or activity, is meant to promote personal discipline and self-control. It also can help us come to an appreciation of the hunger that other people experience – and fill our "hunger" with the power and presence of God's transforming grace.
The giving of alms is more than monetary contributions. It involves reaching out to the needy in a variety of ways. Just as we commit ourselves to spending time each day in "devotional reading," we might also commit ourselves to a specific concern this Lent – such as feeding the poor through participation in a collection at your parish (at Saint John Bosco we will have our annual Saint Vincent de Paul Lenten Food Collection with a different item being collected each weekend) or the Catholic Relief Services ' Operation Rice Bowl, visiting the sick and homebound, or during this Jubilee Year of Mercy, engaging in some corporal or spiritual work of mercy.
Begin with the end in mind – Easter! All of Lent is a preparation to celebrate the Easter mysteries. I encourage you this week to review the opportunities that are available to you at your parish throughout Lent. You can do that by carefully reading your parish bulletin.
A few "on-line" resources you might consider.  Bishop Robert Baron from "Word on Fire" and Matthew Kelly from "Dynamic Catholic" will send you a daily reflection throughout Lent.  The United States Conference of Catholic Bishops will provide suggestions and resources to support your Lenten practices on a daily basis.
So, this week reflect on what you are going to do this year as you take that joyful journey toward Easter. Then, put your answer down in writing – and be ready to begin the journey next Wednesday.
Just a reminder . . . Ash Wednesday is a day of abstinence from meat (and any meat based food) and a day of fasting. The law of fast allows a person to eat one full meal. Two smaller meals may be eaten, but they should not equal one full meal. The law of abstinence binds all Catholics 14 years and older. The law of fasting binds all Catholics from their 18th birthday until their 59th birthday.
Question – How do you plan to engage in the traditional Lenten practices of prayer, fasting, and almsgiving this year. ?