How's Your Lenten Journey Going?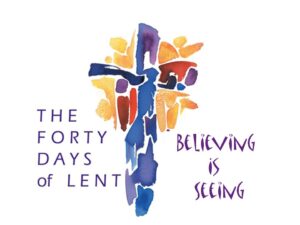 There is a wonderful Yiddish folk tale about a man who would sit outside the walls of a great city.
When travelers approached, they would ask him, "What kind of people live here?"
The old man would answer, "What kind of people live in the place where you come from?"
If the traveler answered, "Only bad people live in the place where I came from," then the old man would reply, "You better continue on your way; you will find only bad people here."
But, if the traveler answered, "Only good people live in the place where I come from," then the old man would say, "Enter and welcome, for here, too, you will find only good people." (Noah benShea, The Word: Jewish Wisdom Through Time)
We are now a little past the mid-point of our Lenten journey. It is a journey that summons us to respond to the call to conversion and a change of heart.
The Lenten call to conversion begins by embracing the perspective of God. To look at our world as God created it. As sacred and whole – as good and holy. And, to see one another as God formed each one of us. As God's beloved sons and daughters – created in his image and likeness. That perspective should illuminate the path we walk every day and guide all of our thoughts, words and actions.
Christ's attitude of humility and his spirit of peace, enables us to "see" the good in others and call it forth. In extending the blessing of peace to others we are blessed in return.
In the gospels Jesus calls us, his disciples of our time and place, to embrace his spirit of mercy, peace and reconciliation. This compels us to take the first step in forgiving and being forgiven. His spirit of compassion challenges us not to return hatred for hatred – but to take on the more lasting work of transforming hatred into love and communion.
Matthew Kelly's Perfectly Yourself – Discovering God's Dream for You, which the people of Saint John Bosco have been invited to use during our forty-day Lenten journey, is a help to finding our purpose in life as a follower of Jesus Christ. Those who have been using this book since Ash Wednesday, and watching the daily video clips from Dynamic Catholic, have indicated that it is helping them to answering life's big questions, who am I? and why am I here? In this book, Kelly offers 9 practical lessons to help discover God's dream for our lives – and the inspiration to take the next steps toward personal transformation and to live the life God created us to live. Hopefully, those using Kelly's book, are now at page 134.
So, how is your Lenten journey going at this mid-point? Is it marked by prayer, fasting, and works of charity?  Depending on how you answer the question; today's reflection is an affirmation – or a challenge to make a recommitment.
If you need a copy of Perfectly Yourself – Discovering God' – a free copy is available at the magazine rack in the church vestibule.
A couple of reminders . . .
All of the Fridays of Lent are days of abstinence from meat (and any meat based food). The law of abstinence binds all Catholics 14 years and older.
At Saint John Bosco, daily Mass during Lent is celebrated in the morning on Monday and Wednesday at 7:30 am; on Tuesday and Friday at 12:00 noon; and in the evening on Thursday at 7:00 pm. I invite you to join us at daily Mass during Lent.
At Saint John Bosco, we pray the Stations of the Cross on Friday evening at 7:00 pm during Lent. You are welcome to join us for this Lenten devotion.
Palm Sunday is just around the corner – March 25th. You are welcome to join us that weekend, or any other weekend, for Mass – Saturdays at 4:00 pm and Sundays at 8:30 or 11:00 am.
Finally, for those who are wondering – March 25th is traditionally the Solemnity of the Annunciation of the Lord. Since that date is Palm Sunday, and with the celebrations of the days of Holy Week and the Octave of Easter taking precedence in the liturgical calendar over every other celebration, the Solemnity of the Annunciation of the Lord is moved Monday, April 9, 2018 this year.
Question –Are you willing to share how your Lenten journey – or how Matthew Kelly's Perfectly Yourself is impacting your spiritual life?