Moving Through These Days of Advent Waiting.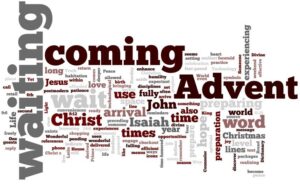 Most of us have at least one calendar on which to keep track of our commitments. I have to admit that my one and only calendar is on-line, and I'm always a little nervous when thinking about what would happen to my life if it ever crashed. So, I occasionally print out a copy just in case!
In the life of the Church, we keep time by the Scripture readings we hear proclaimed at Mass on Sundays. This cycle of readings is called the Liturgical Year. The First Sunday of Advent, which we celebrated this past Sunday, begins a new liturgical year with the four Sundays before Christmas. So, Happy New Year! As in every year, this Liturgical Year has a Gospel text that is proclaimed throughout. This year it will be Saint Matthew's Gospel, since we are in cycle A.
Advent is a time of expectation, when we prepare our home and our hearts to celebrate the beginning of our Christian faith with the conception and birth of Jesus Christ. It is a season of hope, a time to nurture peace and experience joy in anticipation of the love that was made incarnate in the birth of Christ.
We celebrate Advent not only by thanking God for Christ's first coming as a baby in a stable in Bethlehem, but also for His presence among us today through the indwelling of the Holy Spirit, and in anticipation of His final coming as Savior at the end of time.
As we celebrate the days of Advent we have to admit that the pull of our secular culture and the world around us can create some tension in our lives. Having celebrated Thanksgiving we are now into the "Christmas Season" in our society. It is among the busiest times of the year. There are many wonderful traditions of family, generosity, and celebration at work, at home, and in our family. Christmas decorations surround us at the mall, as we drive the city streets, and in our homes. Christmas songs are playing on the radio and there are all kinds of "Christmas Specials" on the television. We could probably take in a Christmas concert weekly. And I'm sure that most of us have been invited to at least one "Christmas Party" that will take place before Christmas Day. Not to mention the shopping and baking to be done, and dealing with the ever-changing weather!
In the midst of it all, Advent struggles for our attention. It speaks up in the midst of all that is happening around us and asks us to "wake up" to God's movement and purpose in our lives. Let's enter into the loving celebrations of the Advent and Christmas seasons with our eyes wide open so that we can see and acknowledge the true meaning of the season – the gift of God's love in Jesus Christ.
Here are some suggestions that I believe can help you steer your way through these days of Advent waiting. As with the calendar New Year, Advent is a great time to re-commit to your spiritual resolutions.
Try to participate in daily Mass at your parish – yes, it will take a little extra effort to be there every day, but I can assure you that the grace of participating in daily Mass will be well worth the effort. Take the time to reflect on the daily scripture readings. Pick up an Advent calendar, at Saint John Bosco they are located at the magazine rack and on the tables in the Church vestibule, and follow the suggestion that is given for each day. Light the candles of an Advent Wreath every evening and pray for God's blessing on your family and friends. Go to the interactive Family Advent calendar found at the website for the United States Conference of Catholic Bishops, which offers daily reflections and activities. Participate in some Advent or holiday giving program, at Saint John Bosco we are reaching out to the Saint Martin de Porres Center, the Arrupe House, and our homebound and nursing home residents through our "Advent Giving Tree". Make a weekly Holy Hour at your parish in the presence of the Blessed Sacrament – at Saint John Bosco you can do that seven days a week, twenty-four hours a day in our Eucharistic Adoration Chapel. Spend some time in silence. Take the time to go to Confession between now and Christmas. Pray a little more each day. You might even consider some of the suggestions Constance Hull offers in her article, "Preparing our Hearts and Minds for Advent," at Catholic Exchange.
Having read my suggestions; I invite you to add them to your own Advent customs list. Once you have done that, I encourage you to look that list over again and intentionally pick at least one activity that speaks to your heart and can realistically be done every day. Then, do you best to integrate it into your daily routine between now and Christmas Day. If you do, I can assure you that you will celebrate these Advent days of waiting with a little more peace and a little more joy!
Question – What am I intentionally doing for Advent this year?