Great Expectations!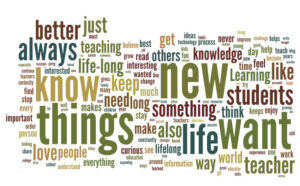 On the first day of school, the teacher was given the roster of students in her new class. In a column by each student's name was a number, such as 154, 136, 142, and so on.
The teacher was impressed. "Look at these IQ scores!" she thought, "What a terrific class this is going to be."
She immediately determined to work harder with this class than with any other class she had ever taught. And sure enough, all that year, she came up with innovative lessons that she thought would challenge the students, not wanting to bore them with work that was too easy for them. And the class responded, outperforming every class that she had ever taught.
At the end of the school year, the principal commended the teacher on all that she had accomplished with her students.
"Thank you, but how could I miss," the teacher humbly responded, "with the IQ scores of my students."
"What IQ scores?" the principal asked.
"The IQ scores that were included on my class roster this year," she said, pointing to the column of numbers.
"Those are not their IQ scores," the principal explained, "Those are their locker numbers."
Students will be returning to the classroom this week and next. So, this might be a good time for all of us to remember, what this teacher discovered, that we possess within ourselves the potential to do great things. We also possess the ability to do monstrous things. We teach, and we learn, by example – as well from the knowledge that is placed before us. It is also important for all of us to remember that the process of learning never stops – it simply takes on a different format when we are no longer in the classroom. It's a life-long process!
Who we are, what we believe, and how we respond to life's challenges begin within our hearts. That is the place where God dwells within us. On the other hand, the evil that we are capable of, the hurt we can inflict on others, our degrading the world that God created also begins within our hearts. It begins when God is displaced by selfishness, anger, greed, and hatred.
So, as students return to the classroom, this is a good time for us to pray for them, and for ourselves. May God open our spirits and consciences to listen to the voice of God speaking to us in our hearts; calling us to compassion instead of judgment, forgiveness instead of vengeance, joy instead of fear, and reconciliation instead of prejudice.
Hopefully, whether we are teachers or students in a classroom of a school building, or in the classroom of life, the witness we give to those who watch us is a testimony of the depth of our love and care for one another. Reflecting the power and presence of the Spirit of God in our life!
To slow down my life a little during these summer days, through Labor Day I will be blogging every other week – so my next blog will be on August 26th.
Question – As students prepare to return to the classroom, what one lesson from your own experience would you share with them?
A reminder to those who live around Saint John Bosco Parish in Parma Heights – our International Festival is this Thursday, August 13 thru Sunday, August 16. New this year are Fireworks by "Lite the Nite Pyrotechnics" at dusk on Friday, August 15, sponsored by KPM, Ltd. For the Festival Poster and complete details go to our parish website. I hope to see you at the Festival.