God's Arms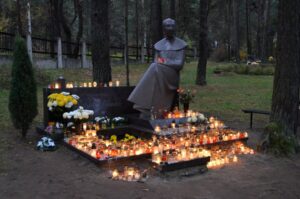 The following image, cited by Michael Lindvall in an article titled, "God's Arms," in The Christian Century on June 1, 2004, is attributed to Leslie Weatherhead.
"Many years ago, a pastor stopped at the home of a young woman whose husband had been buried the day before. They had only been married three months when death stalked her husband with pneumonia, and brought him down at last.
In one corner, an old white-haired woman sat in a low chair, her face hidden by her hand; her other hand softly rubbed the shoulder of the young widow – little more than a teenage girl – sitting at her feet.
Suddenly the young widow turned almost ferociously on the pastor.
'Where is God?' she demanded. 'I've prayed to Him? Where is He? You preached on the Everlasting Arms. Where are they?'
'They are here,' the pastor replied. 'They are round you even now. These are the arms of God.'"
The month of November, and not just All Souls Day, is a time when people are keenly aware of remembering and praying for the dead.
At Saint John Bosco, throughout the month of November a "Remembrance Banner" – with the names of those who were buried from our parish over the last twelve months – is in the sanctuary. Our parishioner's "All Souls Day" envelopes, with the names of deceased relatives and friends, are in a basket near that banner. During the entire month all of our beloved dead, along with the names on our "Remembrance Banner," have a specific remembrance at every Mass.
Many parishes have a special "Mass of Remembrance" on All Souls Day or on another day during November to pray those who have been buried from the parish during the past year. The "Mass of Remembrance" at Saint John Bosco will be celebrated on Tuesday evening, November 10th at 7:00 pm. You certainly are welcome to come and pray with us that evening. Following the Mass we gather with the families of those who have buried a loved from the parish for a social in the Bell Tower as one way to assure them of our continued prayers and support.
As we pray for our beloved dead, we also pray for their families. They are adjusting to a new sense of normal following the death of a spouse, parent, child or other member of their family.
In a very real sense, it is the Spirit of God that calls us to be the "arms" of God to embrace them when they are hurting; His "hands" to help them in their moments of need; and His "heart" to console them in their grieving. In taking on the role of a disciple of the Risen Jesus, we embrace his Spirit of compassion and forgiveness, seeking to imitate his example of humble servanthood.
May the Spirit of God in us bring light to the darkest of times, healing to the most painful moments, and love to the most alone and abandoned.
Question – Are there any special November practices or traditions that enable you to pray for those who have died and to reach out to their families?