Faithful Citizenship Part 5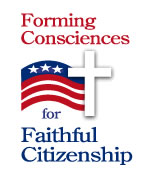 This week is the final of a five-week series to assist you in determining how you will cast your vote in the November election.
In this series I have been reflecting upon the teaching of the United States Conference of Catholic Bishops on Faithful Citizenship regarding the upcoming General Election.
The Catholic Church and Saint John Bosco Parish, like parishes throughout the nation, do not endorse political parties or candidates. In preparation for Election Day, the United States Conference of Catholic Bishops, the Catholic Conference of Ohio, and the Social Action Office of the Diocese of Cleveland have provide good information to help voters prepare to cast their ballot.  Other materials, even those published by bona fide Catholic organizations, will not be promoted or circulated at Saint John Bosco (or at parishes in our diocese) because they do not meet the standards set by our bishop or the bishops of our country.  Should you find such election materials anywhere on parish property, or placed on your car while parked at Saint John Bosco between now and Election Day, please know that no permission was given for any such distribution – and that they do not speak for the Catholic Church.
Cardinal-Designate Joseph Tobin recently reminded the people of the Archdiocese of Indianapolis, "No candidate for political office perfectly represents the positions of the Catholic Church. No political party has written a platform that is in complete agreement with our perspective on morality and social justice. . . .  Two of the Church's teaching are especially important for us to consider as we prepare to vote on Election Day.  The first is our absolute belief in the sanctity of all human life.  The second is our opposition to all forms of unjust aggression against individuals and groups regardless of their race, color, religion, sexual orientation, economic, political or social status.  . . .  In our political decision making it's important to ask the question, 'Which candidates and political parties are truly for life and for peace in the deepest and most profound meaning of these terms?' Other issues must also be included in this assessment – Where do the candidates and political parties stand in their concern for the poor, for families, for immigrants and refugees, for the balance of trade and international collaboration? Defending life requires that we promote the common good, to build up rather than tear down social structures that support individuals, families and communities.  And as Pope Francis reminds us, we should be 'bridge builders' that allow for safe, legal and orderly migration of peoples from one homeland to another."
So, when you hear a person say that "your Catholic faith demands that you vote for this person . . ." you should know that he or she is using religious influence to violate your conscience. Don't let that happen.  As you prepare for Election Day, what the Church asks is that you do your best to carefully study and prayerfully consider all of your voting choices in the light of our Catholic faith.  Remember, the Catholic Church does not tell votes how to vote.  The responsibility to make political choices rests with each person and his or her properly formed conscience.
Here is a prayer that I'd encourage you to pray on a regular basis between now and the General Election on November 8th. You also might consider making the "Novena for Faithful Citizenship" that has been prepared by the United States Conference of Catholic Bishops.  There is plenty of time to pray that nine-day novena between now and election day.
A Prayer Before the Election – Prepared by the United States Conference of Catholic Bishops 
Lord God, as the election approaches, we seek to understand the issues and concerns that confront our city, state and country, and how the Gospel compels us to respond as faithful citizens in our community.
We ask for eyes that are free from blindness so that we might see each other as brothers and sisters, one and equal in dignity, especially those who are victims of abuse and violence, deceit and poverty.
We ask for ears that will hear the cries of children unborn and those abandoned, men and women oppressed because of race or creed, religion or gender. We ask for minds and hearts that are open to hearing the voice of leaders who will bring us closer to your Kingdom.
We pray for discernment so that we may choose leaders who hear your Word, live your love, and keep in the ways of your truth as they follow in the steps of Jesus and his Apostles and guide us to your Kingdom of justice and peace. We ask this in the name of your Son Jesus Christ and through the power of the Holy Spirit. Amen.
Question – How are you preparing yourself for the November Election?