Faithful Citizenship Part 4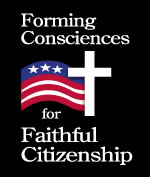 This week is the fourth of a five-week series to assist you in determining how you will cast your vote in the November election. I hope that you will find it helpful in fulfilling one of your most important responsibilities as a citizen – voting.
I have been reflecting upon the teaching of the United States Conference of Catholic Bishops on Faithful Citizenship regarding the upcoming General Election.
I have been writing here about the electoral season that is upon us and the teaching of the United States Conference of Catholic Bishops in their document Faithful Citizenship. Last week I tried to describe "formal and material cooperation with evil" as a very specific act that shares in the evil committed by someone else. This is an important teaching of our church when it comes to voting for political candidates. Some "Catholic" commentators have said, "any vote for 'Candidate X' is a sin". If we understand the teaching of our church and the morality of cooperation with evil, we can see that such a broad statement is impossible to make. In fact, it reveals that statement to be a religious manipulation of voter's consciences.
A Catholic who votes for a candidate who is promoting moral evil BECAUSE of that moral evil would be guilty of sin. However, when our choice is between two morally imperfect candidates the Catholic voter has to choose for the candidate that promises and can deliver the greatest good possible in the office they seek.
While the dignity and the protection of human life from conception to natural death is the foundational social moral issue within our church's teaching, most debates in the Catholic church center around the single moral evil of abortion. Abortion and Euthanasia are the two evils that most directly threaten the preciousness of innocent human life. It is impossible to be an authentic Catholic who promotes the evil of abortion or euthanasia.
However, abortion and euthanasia are not the only threats to human life and they are not the most practiced evils that threaten the dignity of human persons. In addition to fighting abortion and euthanasia, the rich social moral teaching of the Catholic church calls us to promote the sanctity of traditional marriage and chaste sexual living, the right and the dignity of work, the care for the poor, and the protection of the environment. Other very popular moral evils in the world that threaten human dignity and life include preemptive war, inhumane weaponry, racism, human trafficking, sexism, capital punishment, refusal to welcome and care for the immigrant, and others. There is no issue more important than the dignity and protection of human life and there are many evil proposals and positions held by candidates for public office that threaten human life and dignity and we must not support them. Our discernment of which candidate promises to accomplish the most good cannot be limited to a single moral evil but must never abandon this most important moral good.
Let's prepare to participate in next month's General Elections as well-formed Catholic voters. We need to apply our Catholic votes where they can make a difference. Refusing to vote (which the bishops admit is sometimes a temptation for disheartened Catholics) or voting for candidates that do not have a chance of getting elected will simply allow other people without Catholic moral consciences to determine the future of our nation. It is very unlikely that we will ever get everything in one candidate for national office that our faith desires. However, every candidate can be judged by Catholics according to the standard of Christ and moral teaching of his church. Please prayerfully strive to identify the relative goodness in those candidates that have a chance of being elected and then support the one who offers the best chance to bring about the greatest share of Christ's Kingdom once in office.
Three good sources for information to help you prepare for the November General Election the United States Conference of Catholic Bishops, the Catholic Conference of Ohio, and the Social Action Office of the Diocese of Cleveland.
Question – How are you preparing yourself for the November Election?
This week is the fourth of Father Jurcak's five-week series to assist in forming consciences for the November General Election.