Faithful Citizenship Part 2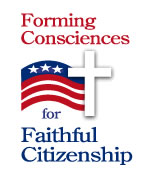 This week is the second of a five-week series to assist you in determining how you will cast your vote in the November election. I hope that you will find it helpful in fulfilling one of your most important responsibilities as a citizen – voting.
Never in living history has an American presidential election been so divisive and difficult. Almost daily the news present clips that prompt us raise our arms and shout, "I can't believe what she/he just said!" Many Americans look at the two major candidates running for the highest office in our nation and wonder how these two unpopular politicians have made it to the top. Yet, we are challenged to choose the most qualified to be our next president.
Faced with unpopular candidates whose positions are far from Catholic moral teaching, many voters are tempted to simply not vote this November. But we have to remember that the General Election is not only about who be our next president. On that day there are also 469 seats in Congress to be decided – 34 in the Senate and all 435 seats in the House of Representatives. Much of what a President Trump or a President Clinton can accomplish will be decided by the makeup of Congress. Along with these elections a variety of state, county and local elections and issues are on the ballot. It would be imprudent for anyone to sit-out this election because they are frustrated with the candidates at the top of the ballot.
The social teaching of the Church teaches that Catholics are called to be involved in the political process and make choices that are not only informed about issues and the candidates, but done in a prayerful attitude and a well-formed conscience. Pope Francis reiterated this teaching on Sunday when asked aboard the papal plane during his flight from Baku, Azerbaijan to Rome about the American election. A reporter from the United States asked him, "Holy Father . . . Many American Catholics and people of conscience are struggling with how to choose between two candidates, one of whom diverts from some aspects of the Church's teaching and the other who has made statements vilifying immigrants and religious minorities. How would you counsel the faithful in America and what wisdom would you have them keep in mind when the election occurs?" Pope Francis responded, "You pose me a question where you describe a difficult choice, because according to you, you have difficulty in one and you have difficulty in the other. In electoral campaigns, I never say a word. The people are sovereign. I'll just say a word – study the proposal well, pray and choose in conscience."
To help form our consciences, as in the past, the bishops of the United States have provided Catholics with moral guidance in a 2015 revision of their document, "Forming Consciences for Faithful Citizenship – A Call to Political Responsibility." If you can't read and/or download it. Copies are available at the magazine rack in our church vestibule – along with copies of "A Guide to Catholic Voting" published by Our Sunday Visitor.
Last week I mentioned that in all of our moral choices we must NEVER deliberately choose EVIL or support the evil of another. This would also be true of our political votes – we should never support a candidate because of their positions that are clearly evil.
This is complicated because many Catholics understand this rule against associating with evil as a rule against voting for any candidate or party that supports causes that are contrary to Church teaching. This is NOT the rule. The rule is against voting for a candidate BECAUSE of an evil or immoral position that they hold. The voter's motivations is very important in this moral decision. In this year's presidential election this is a very important distinction for us to make because we have two major candidates and neither of them is completely in support of the morality of our Catholic faith. Both candidates are supporting moral evils by positions that they hold and advocate. So, what is a responsible Catholic to do?
The bishops of the United States, in their document, "Forming Consciences for Faithful Citizenship," have instructed us that we must NEVER vote for a candidate BECAUSE of an immoral evil that he or she is proposing. That would be formal and material support of a moral evil. That is sinful. We do have a moral obligation to vote. Since both of the candidates for president are morally flawed according to Catholic social teaching, responsible Catholics have to discern which of these morally flawed candidates in spite of their moral flaws has the BEST chance of accomplishing the most GOOD if elected President of the United States.
So, we as Catholic never want to admit that we are voting for the "lesser of two evils." Rather, we must admit to having prayerfully discerned with whom the greatest amount of good can be accomplished through the political process as it is. So, no one should tell you as a Catholic that a vote for "Politician X" is a sin. If we follow the teaching of our Lord, the instruction of our bishops, and our well-informed personal conscience we will be using our vote to further the Kingdom of God by choosing the BEST of the flawed, imperfect politicians. That's just the Catholic truth about it. So. Let's pray for our country and for the many men and women who FOR THE RIGHT REASONS make themselves available for public service.
Question – How are you preparing yourself for the November Election?