Faithful Citizenship – Part 1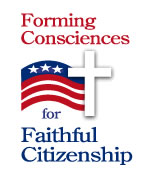 I'm sure that we would all agree that the current political campaign for national office is a particular challenge for faithful Catholics. As in the past, the bishops of the United States have provided Catholics with moral guidance as we approach our elections in a 2015 revision of their document, "Forming Consciences for Faithful Citizenship – A Call to Political Responsibility." If you aren't able read and/or download it, copies are available at the magazine rack in our church vestibule – along with copies of "A Guide to Catholic Voting" published by Our Sunday Visitor.
This week I'm beginning a five-week series to assist you in determining how to cast your vote in the November election. I hope that you will find this series helpful in fulfilling one of your most important responsibilities as a citizen – voting.
The first rule of Catholic morality regarding elections is that we as pastors do not dictate political choices. The Catholic Church does not tell us whom to vote for when we enter the voting booth. It does not endorse an official list of candidates or tell us which party Catholics should join. Instead, the church's pastors are called to inform the consciences of the faithful about the moral issues involved in political campaigns. This will enable the faithful to apply the teachings of our Lord Jesus Christ and the core Catholic faith values to the choices they make in the voting booth.
How can the Church engage in the discussion of moral issues that affect our social lives without involving itself in politics? It's not easy. Yet, that is the charge of the Church. Catholics must follow their consciences in choosing candidates for political office. Let's face it, neither of this election's candidates for president are perfectly aligned with all of the Church's moral teaching. According to the Catechism of the Catholic Church (No. 2240), there are three primary responsibilities of all citizens – to pay taxes, to defend their country, and to vote. So, voting is one of our most important responsibilities and obligations as Catholic citizens.  In casting our vote we are asked to put the good of society and our fellow citizens above our individual desires and needs.
A must for us as faithful Catholic citizens is to NEVER vote for a politician BECAUSE of their immoral positions – and both candidates have them. That would be sinful. We are, however, charged with voting for a candidate that presents the greatest opportunity for accomplishing the greatest moral good. A Catholic cannot make a faithful political choice based simply upon the fact that a candidate favors one morally objectionable policy. The moral teaching of our Church is about more than prohibitions.  We Catholics are encouraged to respond to the basic needs of human beings – food, shelter, health care, education, and employment.  We are called to welcome refugees and immigrants, defend religious freedom, support marriage and the family, speak out again racism and economic injustice, and protect the environment.  The Catholic faith also has teachings on abortion, physician-assisted suicide, capital punishment, safeguarding peace, genocide, torture, and avoiding war.  Faithful Catholics must discern which of the candidates has the best chance of accomplishing the most morally acceptable results once elected according to all of the teachings of the Church.
I am certain that you will hear a lot of "religious" and moral authorities, and yes, some of them will be pastors, telling you something different. I know that is confusing. But, the standard that you must use to discern whether someone is telling the Catholic truth is this: no faithful Catholic leader will ever tell you that your Catholic religion demands that you vote for a particular party or candidate. That's just not authentic moral pastoral guidance, and it is not the teaching of the Catholic Church or the United States Conference of Catholic Bishops. I'd be very leery of any individual, or voter guide that claims to be "Catholic," that propose such a list for any election.  Use your faith and your mind to discern which candidate can realistically accomplish the greatest portion of God's will in this particular situation.
I'll have more to share with you next week to help you in forming your conscience for the November election.
Question – How are you preparing yourself for the November Election?