Confession – A Help To Live the Joy of Jesus Christ.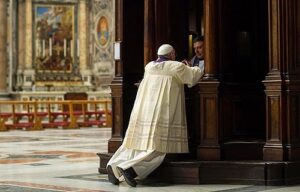 This past Saturday morning a number of children at Saint John Bosco Parish experienced the forgiveness of the Lord Jesus in the sacrament of Reconciliation for the first time. The excitement of these children challenge us to reflect on our need to encounter the forgiveness of the Lord in that sacrament.
At the beginning of the school year their parents met with me and Chris Kall, who is our Director of Religious Education, to reflect on this sacrament and begin a period of formal catechetical formation to prepare their children for First Reconciliation. We reminded them of the charge given to them on the day of their child's baptism. "This child of yours has been enlightened by Christ – and is to walk always as a child of the light. Keep the flame of faith alive in your child's heart."
Since that parent meeting they have shared with their children what forgiveness means to them and how important it is remember that Jesus is always ready and willing to forgive us when we sin. The witness of the act of forgiveness in their daily life models the reason why we need to seek the Lord's forgiveness and the grace of this sacrament in order to live more fully the joy of Jesus Christ.
Pope Francis frequently reminds us that Jesus never tires of forgiving us – and that we must never forget that. Here is how he connects the sacraments of baptism and reconciliation. "Baptism opens the doors of the church to us. But also, when the door starts closing a bit because of our weakness and sins, confession reopens it." Then, having celebrated the sacrament we all must "Go forth joyfully. Because life must be lived with the joy of Jesus Christ. That is a grace from the Lord."
Monday evening, before he lit the Christmas tree in Vatican Square, Pope Francis encouraged people to use these days before Christmas as a time to go to confession and "let the light of Christ be in your hearts, in your families, and in your cities."  Echoing the words of Pope Francis, I too encourage you to take time during these Advent days to take advantage of the opportunities that are available to experience the forgiveness of the Lord Jesus in the sacrament of Reconciliation – and live the joy and light of Jesus Christ.
On Monday evening, December 15th, the parishes of our cluster (Saint Bridget of Kildare in Parma, Mary, Queen of Apostles in Brook Park, and Saint John Bosco) will gather at 7:00 pm in Saint John Bosco Church for an Advent Communal Penance Service.  Following a brief period of song, prayer, scripture, preaching and an examination of conscience – there will be 7 priests available for individual confessions. I invite you to join us on Monday evening at 7:00 pm at Saint John Bosco Church and experience the forgiveness, mercy and grace of the Lord Jesus.
Question – What is your reaction to Pope Francis' invitation to see forgives as an opportunity to renew the grace of your baptism?