Coming tomorrow . . . Pope Francis' Second Encyclical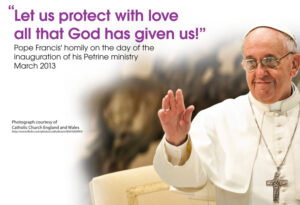 Tomorrow Pope Francis will publish his much anticipated encyclical on the environment.  We have been told that this encyclical, the second of his papacy, has been given the title Laudato Si – "Praised Be" – a line from Saint Francis of Assisi's "Canticle of Creatures" praising God for the creation of different creatures and aspects of the earth.
Pope Francis is not the first pope to speak on the environment. Saint John Paul II and Benedict XVI, and many of their brother bishops, have called on Christians to reflect on the connection between our care for creation and how we relate to other people, especially the poor and vulnerable, and to the Creator.
Not surprisingly, many people have opted to make comments on what they believe Pope Francis will be teaching us tomorrow. Some are already criticizing him and suggesting that he should stick to "religion." As if stewardship of the earth isn't religion! Obviously, we won't know the content of this encyclical until tomorrow. So, what I would like to do today is to offer a little background on Catholic teaching, what an encyclical is, and the impact that it has in the life of the church.
Catholic teaching is far more than the proclamation of a limited number of infallibly defined dogmas (there are only two – Mary's Immaculate Conception and Mary's Assumption) or articles of faith. A Catholic knows that Christ is present in His Church, and is teaching there, making known a rich mystery that always needs to be more richly learned and understood. The meaning of Christian teachings is grasped only by an attentive person who wishes to understand the mind of the Church in all its teaching and life.
A Catholic is expected to assent to all of the authoritative teachings of the Church, even when the Church is not using its full infallible authority. This is clearly articulated in paragraph 25 of the Dogmatic Constitution on the Church, Lumen Gentium: "Bishops teaching in communion with the Roman Pontiff are to be respected by all as witnesses to divine and Catholic truth.  . . . This religious submission of will and of mind must be shown in a special way to the authentic magisterium (teaching) of the Roman Pontiff even when he is not speaking ex cathedra.  . . . His mind and will may be known chiefly from the character of his documents, from his frequent repetition of the same doctrine, or from his manner of speaking."
An encyclical letter is a formal pastoral letter written by the Pope for the entire Church. The Catholic Encyclopedia refers to it as a "circular letter" – from the Greek "egkyklios." They are not used for dogmatic definitions of the Catholic faith, but written to counsel or shed light on a point of doctrine which must be made more precise or which must be taught and understood in view of a specific circumstance.
The teaching presented in an encyclical is generally not given as something that Catholics are obligated to believe as being divinely revealed by God. However, it is an important expression of the Holy Father's ordinary teaching authority (magisterium) and should be given serious and substantial consideration. They contain the pope's views on Church teachings and doctrine on a particular topic.  In them the Pope, who is the chief pastor of the whole Church, is addressing in Christ's name the whole flock of the Lord – clergy, consecrated religious, and the lay faithful. Such teachings belong to the ordinary magisterium (teaching authority), of which it is true to say: "He who hears you, hears me. He who rejects you, rejects me. And he who rejects me, rejects him who sent me." (Luke 10:16)
On July 25, 1968 Blessed Paul VI presented the encyclical Humanae Vitae, which reaffirmed the Catholic teaching on birth control and abortion. It is still seen as an extremely important document that outlines the call to respect life. Today it is seen by many as prophetic. Blessed Paul VI knew that this encyclical would be controversial when he published it. But, he declared, the Church "does not, because of this, evade the duty imposed on her of proclaiming humbly but firmly the entire moral law, both natural and evangelical." Like Christ, the Church "is destined to be a 'sign of contradiction.'"
As for the binding force of an encyclical letter, it is generally admitted that the mere fact that the pope should present a teaching on a particular point does not necessarily mean that it is an ex-cathedra pronouncement and that it is invested with infallible authority. However, it does call all people of good will, especially Catholics who are in communion with the Holy Father, to give serious consideration to the theme that is being presented. After all, an encyclical is generally considered one of the highest forms of teaching for a pope. For the most part, what is expounded and stressed in encyclical letters already belongs to the Catholic doctrine for other reasons.
In preparation for tomorrow's publication of Pope Francis' encyclical "Laudato Sii,"  I ask you to take just a little over 4 minutes and watch this YouTube of Father Michael Perry, Minister General of the Orders of Friars Minor, as he explains "Laudato Sii."  It provides a glimpse of what Pope Francis might be challenging Catholics, and all people of good will, to embrace as steward's of God's creation.
Finally, I encourage you to take the time to carefully read Pope Francis' encyclical when it is presented – and not rely on the media's take on it. It will be available at the Vatican website. It certainly will make for some serious and prayerful summer reading!
To slow down my life a little, through Labor Day I am blogging every other week – so my next blog will be on July 1st.
A question for reflection – What impact will this teaching of Pope Francis have on your understanding of being called to be a "good steward of creation?"