Celebrating Two Solemnities This Week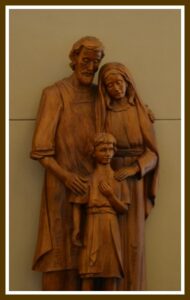 This week, in the midst of our Lenten journey, the church celebrates two Solemnities – Saint Joseph, Husband of Mary and the Annunciation of the Lord.
An angel appears to Joseph in a dream and tells him not to be afraid to take Mary into his home. Then the angel goes on to explain that it is through the Holy Spirit that this child has been conceived. Mary will bear a son, and Joseph is to name him Jesus, because he will save his people from their sins. When Joseph wakes up – he does as the angel of the Lord had commanded him and takes Mary into his home.
The angel Gabriel, sent by God, tells Mary not to be afraid because she has found favor with God. The child she will conceive and bear is a son who shall be named Jesus – the Son of the Most High. Mary says yes, "I am the handmaid of the Lord. May it be done according to your word."
The Annunciation of the Lord, which we will celebrate this Saturday, March 25th, calls to mind God asking a peasant girl of Nazareth to bear the child that will be the long-awaited Christ, God's own Son, the Messiah. God is asking her and her fiancé, Joseph, whom the Church remembered on Monday, March 19th, to do something simple and common yet profoundly important and demanding – God asks Mary and Joseph to create a home for his Son.
As many of us realize, creating a home demands much more than the tangibles of wood and brick. A home is built on the intangibles of love and forgiveness. Creating a home is not a matter of simply erecting walls and installing alarm systems. A home is a matter of creating a safe place emotionally, physically and spiritually. A place where spouses and children are always welcomed, always accepted, always loved – without limit or condition. Creating a home is not a matter of maintaining a shelter in which to eat and sleep and play. A home exists for the far more challenging and painful but lasting and enriching work of maintaining a family.
That is what God asks of Mary and Joseph to do for his own Son, Jesus. And from the home Mary and Joseph will create will come the One who will create a family for all peoples and nations. Who will reveal to all men and women of faith of every time and place – the way home to the Father.
And that is what God asks of us in creating our homes as well. To make them places of safety and acceptance, of forgiveness. Families where the love of Mary's Son dwells always.
Father of us all, may your love always dwell in the homes we create for our families. May our homes be sources of healing in times of anguish, light in times of darkness, and grace in times of turmoil.
Take some time this week to reflect on the "yes" of Joseph and Mary that the Church commemorates this week. Each one of us must echo that yes to God in our own lives, that yes to accept Christ into our hearts and our homes. We are all asked to surrender who we are and what we are in order to allow Christ to be born again and again in our compassion, our generosity, our selflessness, our struggle to build lives centered in the knowledge that "with God all things are possible."
An invitation for your consideration – you are welcome to join us at Saint John Bosco for our parish's "Lenten Mission," on Sunday, April 2nd, Monday, April 3rd and Tuesday, April 4th from 7:00 pm to 8:00 pm in our Church. Our "Lenten Mission" will be led by Father Damian Ference, who is the Director of Human Formation and a member of the faculty of Borromeo Seminary College in Wickliffe. Father Ference writes for Word on Fire and has published articles in a variety of Catholic periodicals.