Catholic Schools Week and Saint John Bosco – There's a Connection.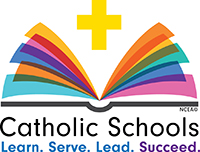 This is Catholic Schools Week, an annual observance that began in 1974. This year's theme, "Catholic Schools: Learn. Serve. Lead. Succeed.," focuses on the important spiritual, academic and societal contributions made by Catholic education. Jesus Christ came to change hearts and to serve – one person at a time – and so Catholic schools invite students to encounter Christ, to be changed by Him, and love God by serving others with all their heart, mind, soul and strength.
Catholic Schools Week highlights the importance of sharing our Catholic faith, especially with our children. Church teaching is clear that the handing on of faith is primarily the responsibility of parents – as expressed in the words of every baptismal liturgy – where parents are described as the first and best teachers of their children in the ways of faith, bearing witness to the faith by what they say and do. But parents are not alone in this role; they are assisted by their parish community and others who assist them in passing on the Catholic faith.
Now, you might be thinking – I'm for Incarnate Word Academy or Saint Bridget of Kildare School. I'm for Holy Name, Padua, Saint Ignatius, Saint Ed's, Saint Joe's or Magnificat. I'm for homeschooling. I'm for the public school. But regardless of who or what we are for, we all have the same task – to share our Catholic faith with our children. We can't do that alone or in isolation – it just doesn't work that way. It never has!
What we celebrate during this Catholic Schools Week is the ongoing legacy of a system of education that has been handed on to us as a treasured gift from past generations. Since the founding of our country, Catholic schools have provided a well-rounded education to disadvantaged families, new arrivals in America, and to all who seek a seat in a Catholic school. Nearly 1.9 million students are currently being educated in 6,429 Catholic schools around the United States. The Diocese of Cleveland is one of the largest system of Catholic schools in the country.
Our Catholic schools continue to exist for one reason – to pass on the faith. This begins with the outstanding teachers who form the minds of young Catholics in our great Catholic Tradition. Yet, intellectual knowledge of the faith is not enough. In a very real sense, our faith cannot just be handed on; it must be caught anew by each generation. Our Catholic schools provide a wonderful environment for the Holy Spirit to work powerfully in our students.
While Saint John Bosco Parish does not have a Catholic school, every member of our parish community assists parents who have children in a Catholic school by the manner in which we live out our faith. Also, families of school age children from our parish are reminded that our parish has entered into an agreement with Saint Bridget of Kildare Parish in Parma that enables families of our parish to enroll their children in Saint Bridget of Kildare Catholic School while remaining members of Saint John Bosco Parish and receive tuition assistance. Don't hesitate to contact me for more information about this agreement.
Today, January 31, is the feast of Saint John Bosco. His theory of education could well be used in schools today. John Bosco believed education to be a matter of the heart. He believed that students must not only be loved, but have to know that they are loved. He taught that Christ's love and our faith in that love should pervade everything that we do – work, study and play. For him, being a Christian was a fulltime effort, not a once-a-week, Mass-on-Sunday experience. It is searching and finding God and Jesus Christ in everything that we do, letting their love lead and guide us.
Isn't that really what Catholic education is all about? Isn't that what we want to pass on to our children regardless of where they receive that education? This week we pray that God will bless our dedicated educators – parents, teachers and catechists – as they work tirelessly to not only inform, but truly transform the lives of our children.
Imagine what life would be like if every one of us modeled our life on that of John Bosco – allowing Christ's love and our faith in that love to pervade everything that we do? That certainly is a challenge for you and me to reflect on, pray about, and try to live. In the words of Saint John Bosco – "Everything and everyone is won by the sweetness of our words and works."
Question – Take a few minutes to reflect on the places where you received your formation in the Catholic Faith. At home while growing up. The Catholic School you attended. The Parish School of Religion Program you attended. What one person and memory stands out as having helped you learn and catch your Catholic faith? Then, say a prayer of thanksgiving for that person and memory.